Savor delicacies from the gourmet hotspot of Hokkaido with all five senses.
A wide range of dishes made with carefully selected ingredients.

We want our guests to enjoy delicious local delicacies,
so we serve cuisine made with local seasonal ingredients from Noboribetsu and Hokkaido based on the concept of "Jibie."a
Enjoy the feast of your dreams with choice ingredients only possible in a gourmet hotspot like this.
DINNER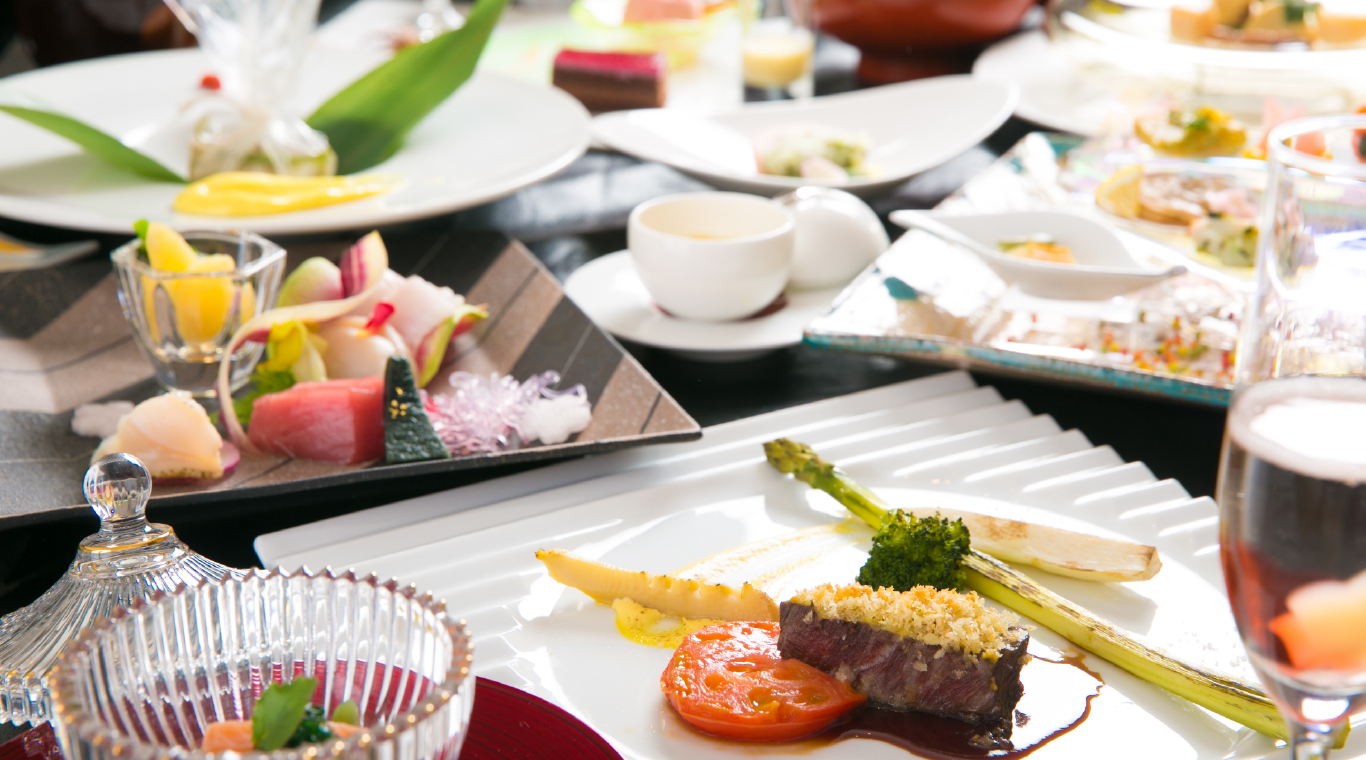 Japanese-western kaiseki cuisine combines Japanese and French styles to bring out the best in the ingredients
The concept of "hikizan" (subtraction) in Japanese cuisine discards anything unnecessary, and the French concept of "nouvelle cuisine" respects tradition while bringing in new ideas. The Japanese-western kaiseki cuisine combines these concepts and uses cooking methods that bring out the flavors of the seasonal ingredients from Hokkaido.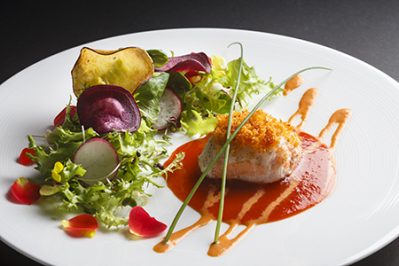 Must-Try Dish
Shizakana made from Hokkaido's leading brand name beef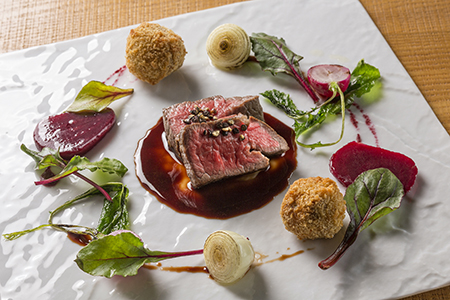 Seasonal sashimi served with Noboribetsu-grown wasabi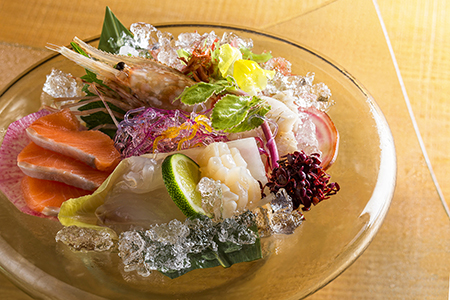 Kettle-cooked Yumepirika rice grown in Hokkaido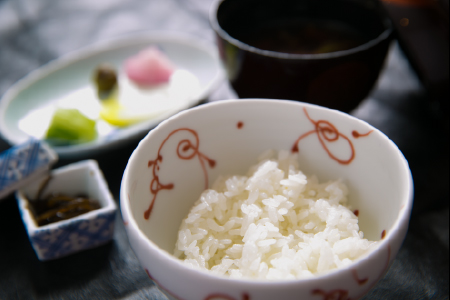 Autumn Kaiseki Dinner Course "Swirling Autumn Colors"
Aperitif
Nashien ~ Orchard Pear ~
original cocktail presenting the refreshing atmosphere of the beginning of autumn
pear liqueur, freshly grated Japanese pear
Japanese Sake, Pineapple Pulp, Mandarin Orange Juice



Saki-Zuke (amuse-gueule)
Jellied Mushroom Consommé with Creamy Onion Vichyssoise

mushrooms, onion, red chili




Zen-Sai (appetizer)
Grilled Shishamo Smelt with Persimmon Vinegar
Stewed Octopus with Bulbil *Moromi Miso Sauce
*Temari Ball Sushi with Snow Crab
Pork and Lotus Root with Balsamic Vinegar
Fruit Chinese Lantern from NOGUCHI Kitayuzawa Farm
Cream Cheese Ball with Dried Fruits and Cured Ham
Carrot Mousse

*Moromi Miso: mild-flavored chunky miso
*Temari Sushi: Small ball sushi in the shape of traditional hand-crafted toy called "temari" meaing "hand ball"




O-wan (bowl dish)
*Sawaniwan with Chicken Ball and *Kudzu

yellow carrot, Shimeji mushroom, burdock root, black pepper, Mitsuba leaves

*Sawaniwan: salty vegetable soup with pork or chicken, local specialty of Aichi Prefecture
*Kudzu: Japanese starch to thicken and smoothen stock and soup, also called Japanese arrowroot



Otsukuri (Sashimi=thinly sliaced raw fish)
Matsukawa Fluke with *Iri-Sake Sauce
"Hon Maguro" Bluefin Tuna with *Tosa Shoyu Sauce
Kelp-Pickled Rainbow Trout with *Shijimi Ponzu Sauce
Hokki Surf Clam with Iri-Sake Sauce
Botan Shrimp with Tosa Shoyu Sauce

*Iri-Sake: concentrated Japanese Sake seasoned with pickled plum
*Tosa Shoyu: soy sauce flavored with bonito broth
*Shijimi Ponzu: Sour soy sauce seasoned with vinegar and fresh-water clam stock


Nakazara (light dish, hot pot)
*Shiraoi Beef Roast with Julienned Beets with *Autumn Sauce Trio

Autumn Sauce Trio: Hollandaise sauce, creamy beet sauce, red wine and cassis sauce
*Shiraoi Beef: one of the best beef brands in Hokkaido



Shii-Zakana (main dish)
Japanese Style Acqua Pazza with Silky Dried Kelp-Wrapped Flounder and Hokkaido Scallop

cherry tomatoes, Mizuna leaves, dried bonito flakes to sprinkle,
creamy pickled plum sauce to change flavor 



Shokuji (rice dish)
*Yumepirika Rice Freshly Cooked in Traditional Pot

Chef's Original Pickles:
Homemade Cucumber with *Shiso Miso, Pickled Plum-Flavored White Radish,*Tosa Style Turnip

*Wasabi Kombu from Fujisaki Wasabi En
Hokkaido *Karashi Mentaiko

*Yumepirika Rice: Hokkaido-brand rice, No.1-ranked in Japan for seven consecutive years
*Shiso Miso: soybean paste cooked with refreshing shiso leaves
*Tosa Style Turnip: turnip pickle with dried bonito flakes
*Wasabi Kombu: specialty of Noboribetsu, green horseradish and kelp boiled down in sweetened soy sauce
Perfect match with rice and Japanese sake
*Karashi Mentaiko: Japanese favorite red chili-seasoned cod roe


Tome-Wan (soup)
Red Miso Soup

grilled eggplant, scallion, dried Nori seaweed

*Red Miso: full-bodied bean or rice paste fermented longer than white miso

Dessert
Mont Blanc Cake with Violet Yam Cream
Pumpkin Crème Brûlée
Apple Ice Cream

・
BOUROU NOGUCHI Original Blend Coffee
Tea – Darjeeling, Earl Grey
Decaffeinated Apple Tea with Cinnamon Stick




BOUROU NOGUCHI NOBORIBETSU
※Please note that the menu items of dinner course are subject to change according to the availability.

BREAKFAST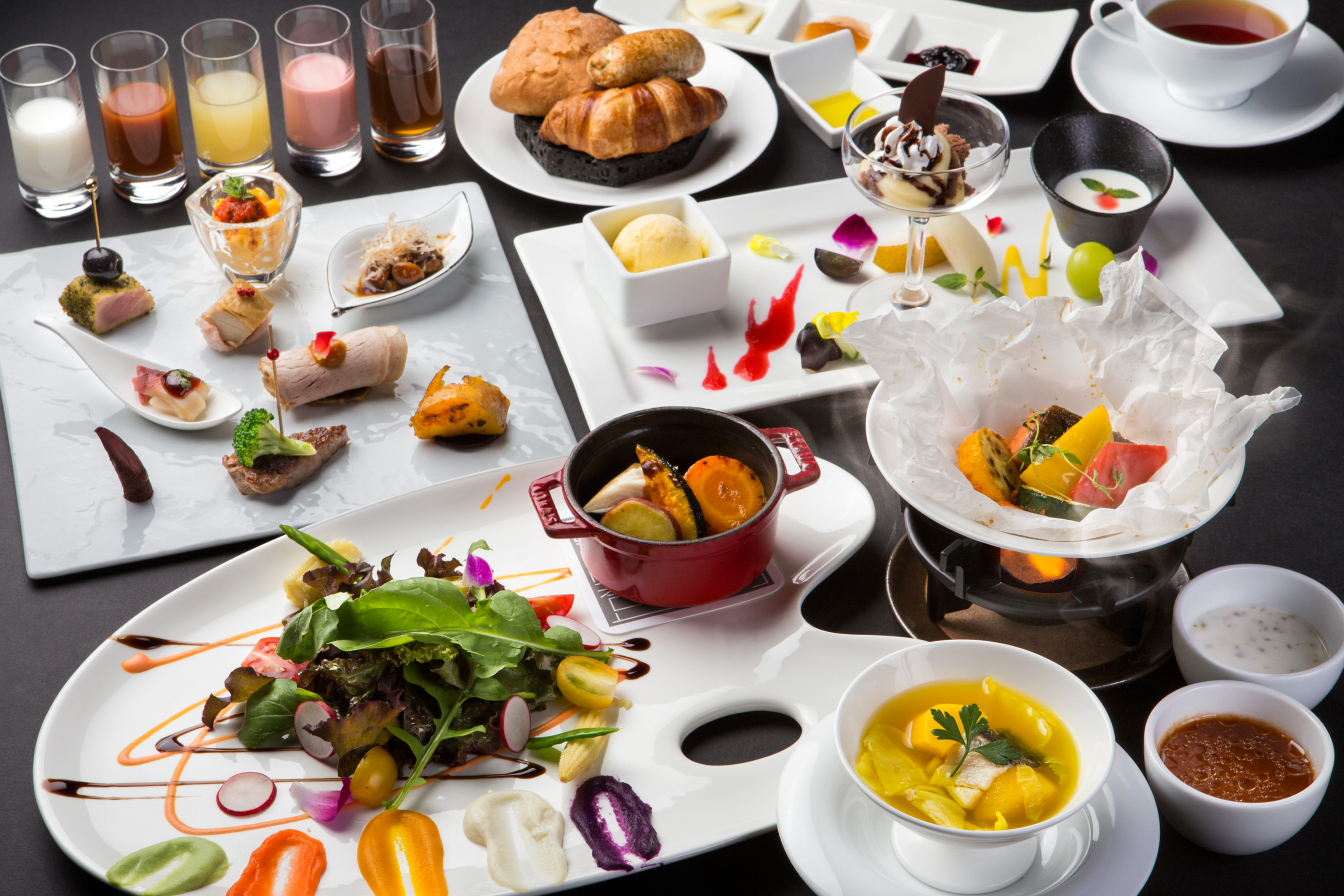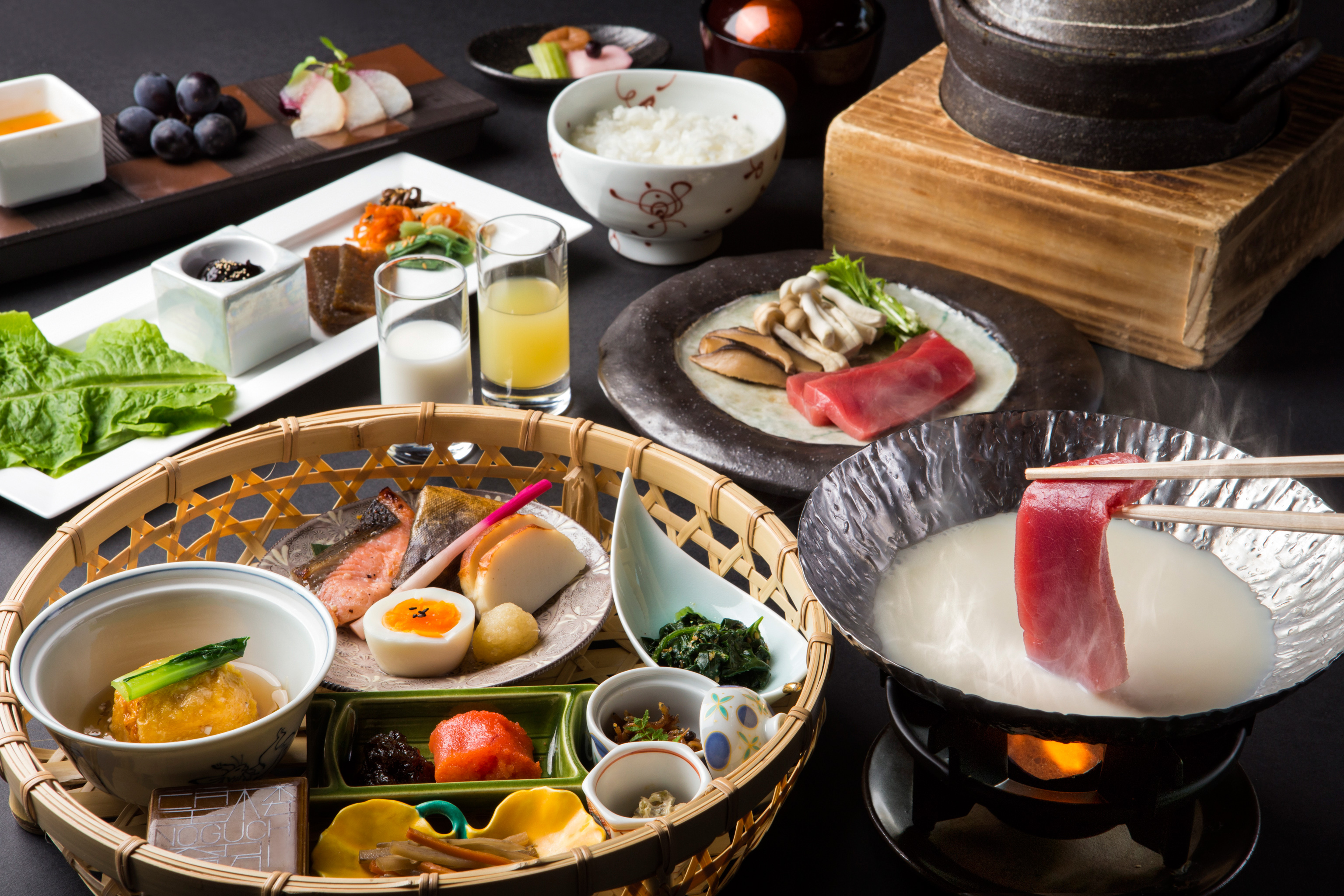 Breakfast prepared with careful attention to the ingredients and cooking methods makes a fitting end to your stay
Choose from Japanese cuisine with kettle-cooked rice and a range of complementary side dishes, or western cuisine with fresh-baked bread and meat dishes made from brand name Hokkaido beef.