Savor delicacies from the gourmet hotspot of Hokkaido with all five senses.
A wide range of dishes made with carefully selected ingredients.

We want our guests to enjoy delicious local delicacies,
so we serve cuisine made with local seasonal ingredients from Noboribetsu and Hokkaido based on the concept of "Jibie."a
Enjoy the feast of your dreams with choice ingredients only possible in a gourmet hotspot like this.
DINNER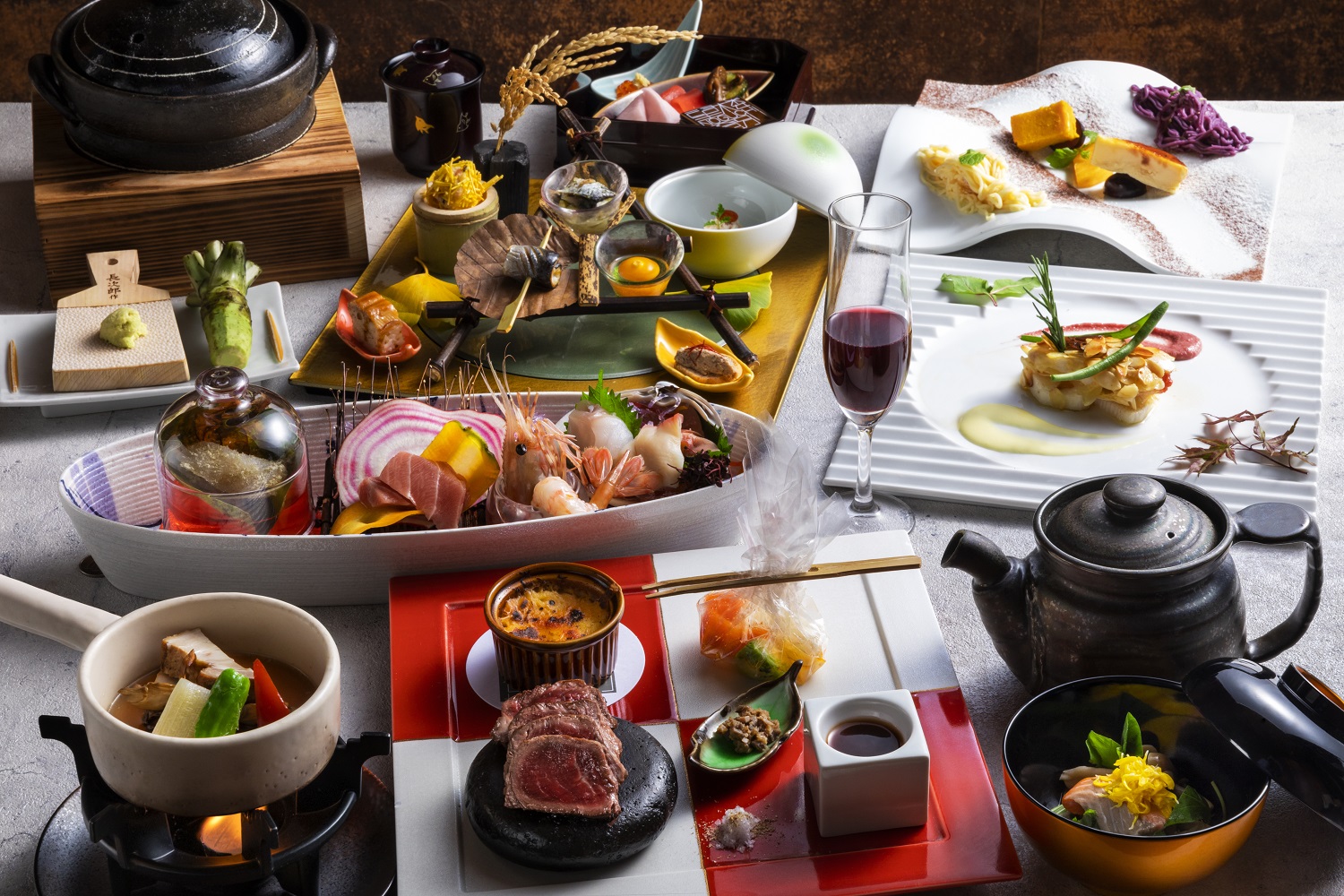 Japanese-western kaiseki cuisine combines Japanese and French styles to bring out the best in the ingredients
The concept of "hikizan" (subtraction) in Japanese cuisine discards anything unnecessary, and the French concept of "nouvelle cuisine" respects tradition while bringing in new ideas. The Japanese-western kaiseki cuisine combines these concepts and uses cooking methods that bring out the flavors of the seasonal ingredients from Hokkaido.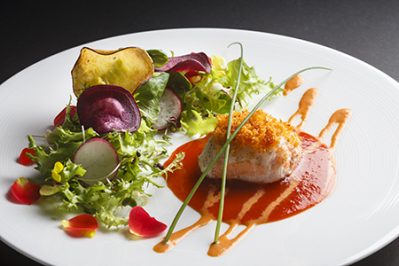 Must-Try Dish
Shizakana made from Hokkaido's leading brand name beef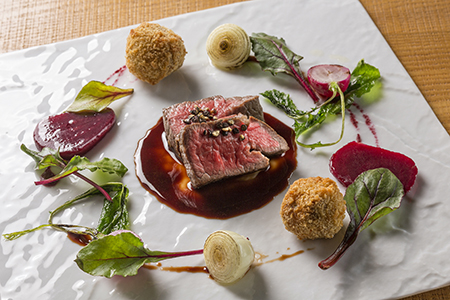 Seasonal sashimi served with Noboribetsu-grown wasabi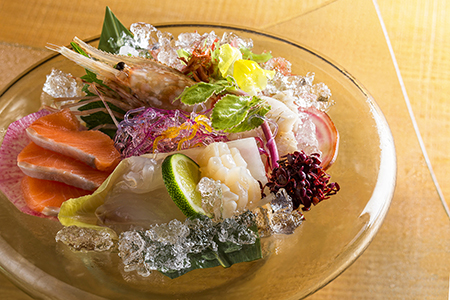 Kettle-cooked Yumepirika rice grown in Hokkaido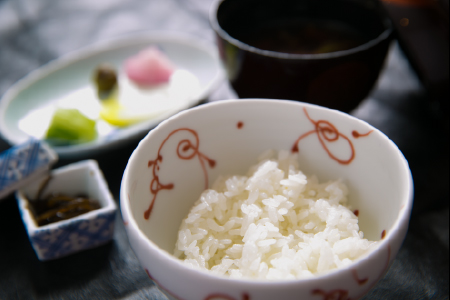 Summer 2022 Kaiseki Dinner Course ~Summer Greetings from Northern Land~ Bourou NOGUCHI Noboribetsu
Aperitif (Bourou Original Cocktail)
AOTSUYU ~ Blue Monsoon ~
white wine, pineapple juice, kiwi syrup, frozen kiwi
Sakizuke (Amuse Bouche)
Mysterious Cherries
Darker Cherry – Cherry Compote, Lighter Cherry – Cherry-Shaped Cream Cheese
Zensai (Appetizer)
Aspic with Conger Eel
Braised Whelk
White Asparagus Milanesa
Deep-Fried Okhotsk atka Mackerel Escabeche
Humus with Pollack Eggs
Duck Loin Japanese Pepper Stew
Hokkaido Corn Panna Cotta
Saki Wan (Bowl Dish)
Squid Ball Kudzu* Soup
sea bream, snow crab, zucchini, edible water shield
*kudzu: Japanese arrowroot starch used for especially traditional Japanese cuisine.
Otsukuri (Sashimi Dish)
Enjoy our fresh sashimi also with Hon Wasabi the Japanese horseradish.
Sailfin Poacher with Sudachi* Vinegar
Fat Tuna with Tosa Shoyu* Sauce
Chum Salmon with Salty Kelp*
Botan Shrimp with Tosa Shoyu Sauce
Japanese Scallop with Spicy Miso Sauce
*Sudachi: Japanese green citrus with refreshing sour taste used for flavoring.
*Salty Kelp: salted dried kelp widely used as seasoning
*Tosa Shoyu: soy sauce flavored with bonito broth
Nakazara (Light Dish)
Summer Flounder and Shrimp Mousse Charlotte
with Champagne Sauce and Red Perilla Balsamic Sauce
Shiizakana (Main Dish)
Japanese Black Fillet Mignon Rock Steak
with Peanut Salt, Shallot Sauce
Summer Vegetable Gratin
Slow-Cooked Seared Beef with Ume Espuma* Sauce
*Ume Espuma: espuma foam flavored with pickled plum
Shokuji (Rice Dish) and Tome-Wan (Soup Dish)
Yumepirika* Rice in Traditional Rice Pot
Country Style Red Miso Soup
king crab, scallion
~Homemade Pickles Trio~
Salmon Trout mille-feuille
Vinegared Cherry Tomatoes
Red Onion and Vegetable Pickled with Red Perilla Vinegar
Wasabi Kombu* from Fujisaki Wasabi-En
*Yumepirika Rice: Hokkaido-brand rice, No.1-ranked in Japan for ten consecutive years.
*Wasabi Kombu: specialty of Noboribetsu, green horseradish and kelp boiled down in sweetened soy sauce.
Best friend with rice and Japanese sake.
Dessert
Creamy Strawberry Shortcake Soup
Far Breton
Yuubari Melon Jelly Crêpe Cannelloni
with Sunflower Seed Nougat Glacé
・
Bourou NOGUCHI Noboribetsu Original Blend Coffee
Black Tea
Peach and Orange Lemonade with Cranberry Syrup
BOUROU NOGUCHI NOBORIBETSU
※Please note that the menu items of dinner course are subject to change according to the availability.

BREAKFAST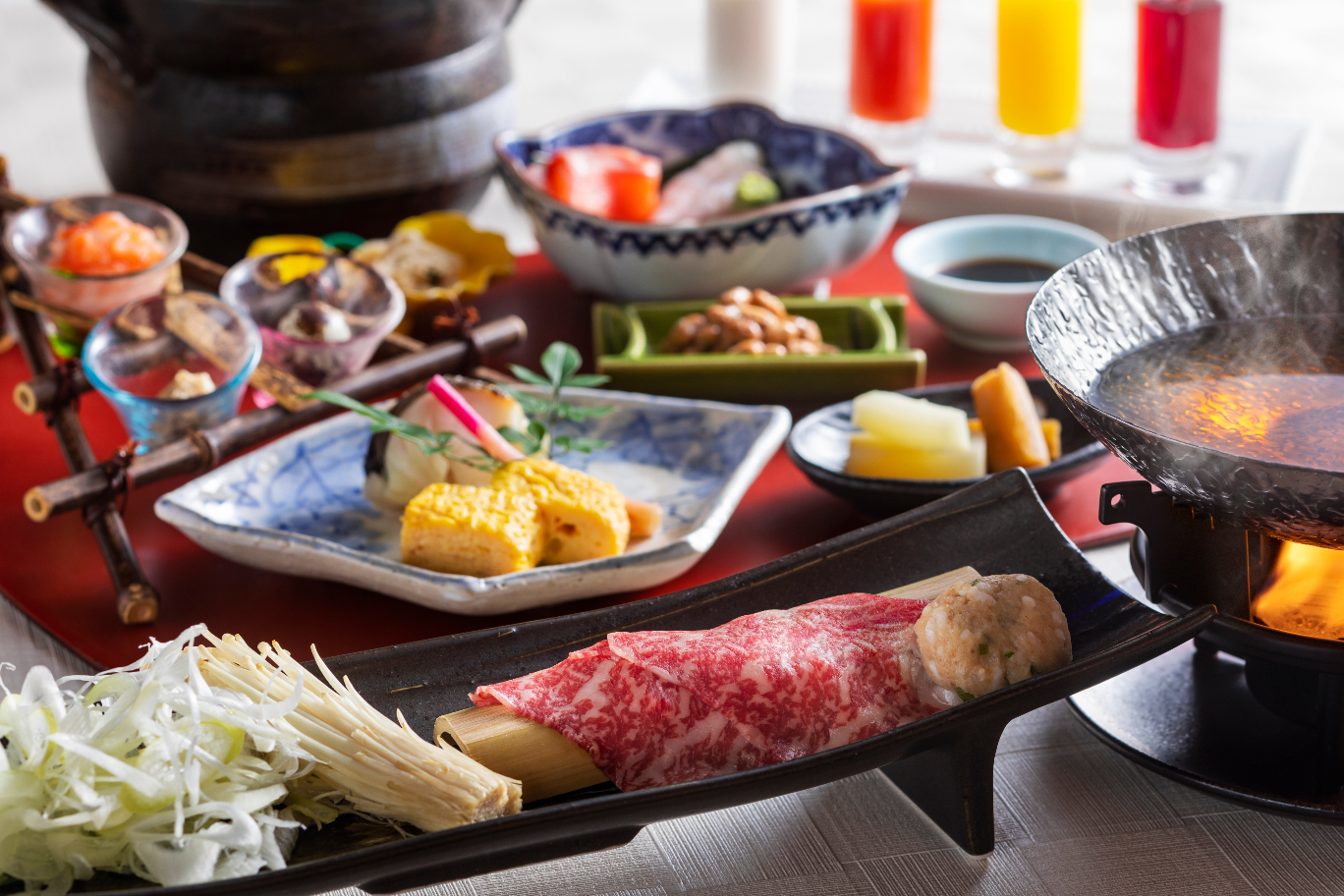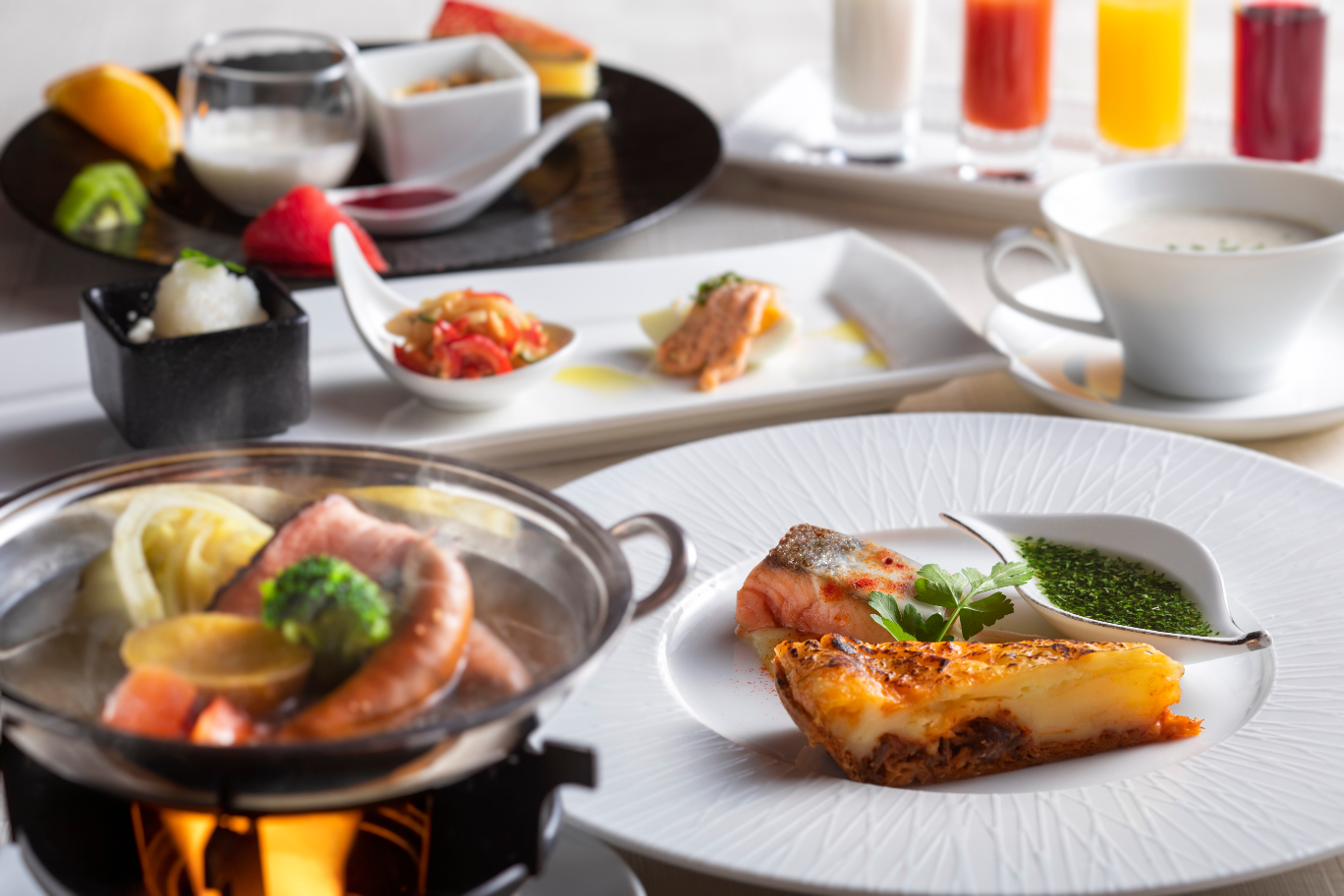 Breakfast prepared with careful attention to the ingredients and cooking methods makes a fitting end to your stay
Choose from Japanese cuisine with kettle-cooked rice and a range of complementary side dishes, or western cuisine with fresh-baked bread and meat dishes made from brand name Hokkaido beef.