Savor delicacies from the gourmet hotspot of Hokkaido with all five senses.
A wide range of dishes made with carefully selected ingredients.

We want our guests to enjoy delicious local delicacies,
so we serve cuisine made with local seasonal ingredients from Noboribetsu and Hokkaido based on the concept of "Jibie."a
Enjoy the feast of your dreams with choice ingredients only possible in a gourmet hotspot like this.
DINNER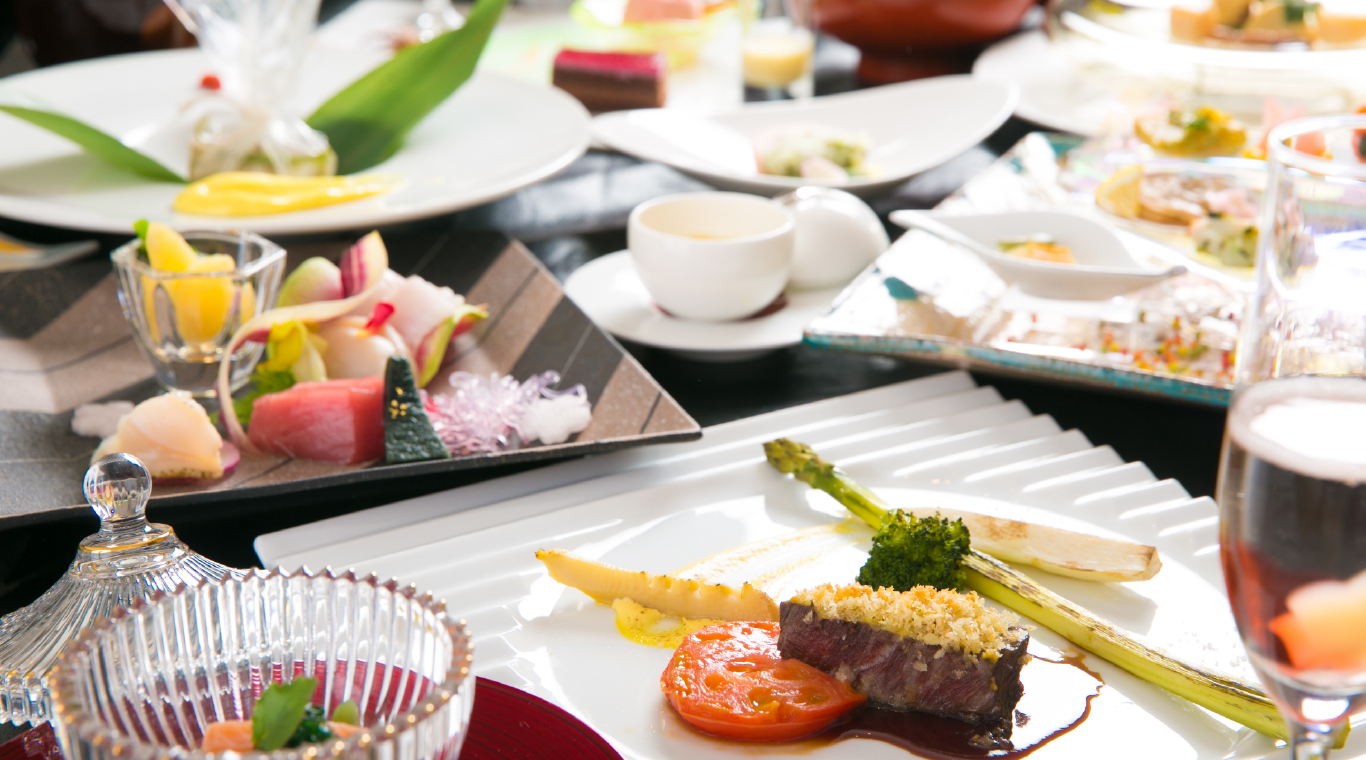 Japanese-western kaiseki cuisine combines Japanese and French styles to bring out the best in the ingredients
The concept of "hikizan" (subtraction) in Japanese cuisine discards anything unnecessary, and the French concept of "nouvelle cuisine" respects tradition while bringing in new ideas. The Japanese-western kaiseki cuisine combines these concepts and uses cooking methods that bring out the flavors of the seasonal ingredients from Hokkaido.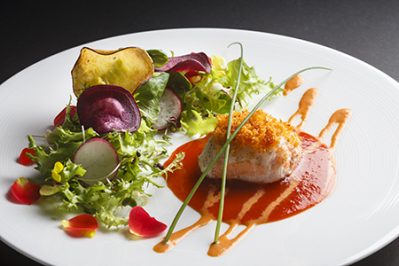 Must-Try Dish
Shizakana made from Hokkaido's leading brand name beef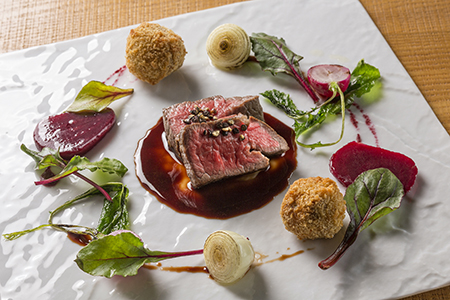 Seasonal sashimi served with Noboribetsu-grown wasabi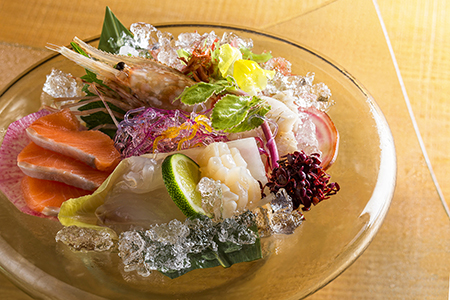 Kettle-cooked Yumepirika rice grown in Hokkaido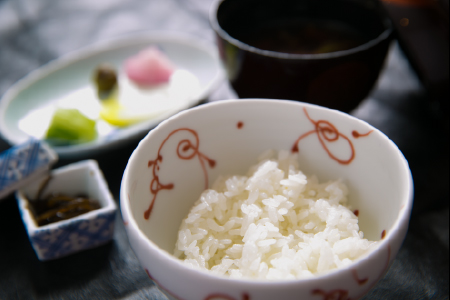 Winter Kaiseki Dinner Course "Noboribetsu Winter Tale"
Aperitif
Very First Snow
Original cocktail picturing the first snow falling down on the maple forest
with the burgundy red cocktail and white espuma(foam).

Otaru Niagara white wine, Cidre (sparkling apple wine), raspberry, apricot nut liqueur for espuma.




Saki-Zuke (amuse-gueule)
Creamy Cod Milt Tofu with Seaweed Jelly Sauce
milt(soft roe), Kudzu starch, Dashi soup(Japanese fish or kelp stock)
Kudzu: Japanese starch to thicken and smoothen stock and soup, also called Japanese arrowroot




Zen-Sai (appetizer)
Salmon Kimi-Sushi*
Snow Crab and Mizuna Leaves Salad with Flying Fish Roe
Boiled Quail Egg and Salsiccia* Pincho
Mukago* Tempura
Traditional Kyoto-Style* Grilled Skilfish
Chicken Galantine
Cauliflower Mousse
*Kimi-Sushi: sushi made with boiled egg yolk (Kimi) instead of vinegared rice
*Salsiccia: Italian sausage
*Mukago: Japanese Yam buds
*Traditional Kyoto-Style Grill (Saikyo-Yaki): grilled fish or meat flavored with white miso paste





O-wan (bowl dish)
*Sawaniwan with Chicken Ball and *Kudzu

yellow carrot, Shimeji mushroom, burdock root, black pepper, Mitsuba leaves

*Sawaniwan: salty vegetable soup with pork or chicken, local specialty of Aichi Prefecture
*Kudzu: Japanese starch to thicken and smoothen stock and soup, also called Japanese arrowroot



Otsukuri (Sashimi=thinly sliaced raw fish)
Samegarei Roughscale Sole with Chef's Special Iri-Sake* Sauce
Hon Maguro Bluefin Tuna with Tosa Shoyu* Sauce
Three-Striped Rockfish with Salty Lemon Sauce
Hokki Sakhalin Surf Clam with Iri-Sake Sauce
Botan Shrimp with Tosa Shoyu Sauce
Iri-Sake: concentrated Japanese Sake seasoned with pickled plum
*Tosa Shoyu: soy sauce flavored with bonito broth


Nakazara (light dish, hot pot)
Winter Cabbage Wrap with Creamy Leek Sauce
winter cabbage, Pacific cod, potato, Shiso (beefsteak plant) flower, black olive
burdock, green bok choy leaf, celeriac (celery root) chips



Shii-Zakana (main dish)
Shiraoi Beef* Roast with Cheesy Mashed Potato and Winter Vegetable
carrot, watermelon radish, turnip, lily bulb, lotus root
Sauces for Beef Roast: Red Wine Sauce, Mustard Sauce, Kamuy Mintar's* Sea Salt,
Wasabi-Kombu from Fujisaki Wasabi-En of Noboribetsu, fresh Wasabi*

*Shiraoi Beef: Hokkaido's Finest Branded Beef
*Kamuy Mintar: Hokkaido's sea salt brand
*Wasabi: green horseradish




Shokuji (rice dish)
Yumepirika* Rice Freshly Cooked in Traditional Pot

White Miso Soup
eddo, carrot, Japanese parsley
white miso paste: light-bodied malted rice paste, lighter and sweeter than red miso

Chef's Original Pickles:
Tosa Style* Mustard Spinach, Chokeberry-Flavored White Radish,
Gingered Eggplant

Wasabi Kombu* from Fujisaki Wasabi En
Fresh Squid tossed with Soy Sauce
*Yumepirika Rice: Hokkaido-brand rice, No.1-ranked in Japan for eight consecutive years
*Tosa Style Mustard Spinach: Japanese mustard spinach pickled with dried bonito flakes
*Wasabi Kombu: specialty of Noboribetsu, green horseradish and kelp boiled down in sweetened soy sauce
Best friend with rice and Japanese sake.



Dessert
Milk Ice Cream
Creme D'Ange Cheesecake
Hoji-Cha* Cake Roll
Chestnut Gâteau au Chocolat
raspberries, apple compote with red wine, pear chip
*Hoji-Cha: roasted green tea

・

BOUROU NOGUCHI Original Blend Coffee
Tea – Darjeeling, Earl Grey
Decaffeinated Matcha Milk





BOUROU NOGUCHI NOBORIBETSU
※Please note that the menu items of dinner course are subject to change according to the availability.

BREAKFAST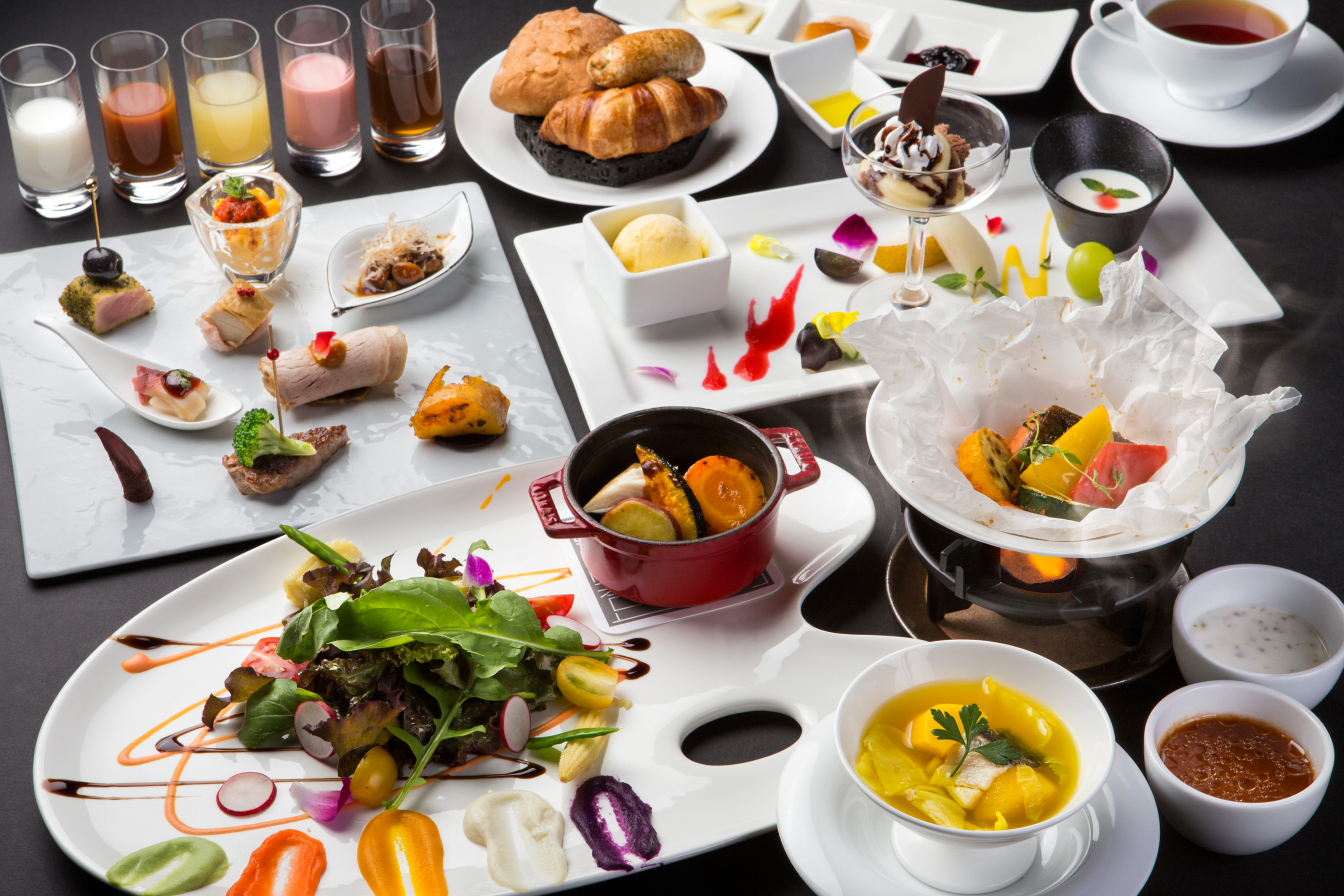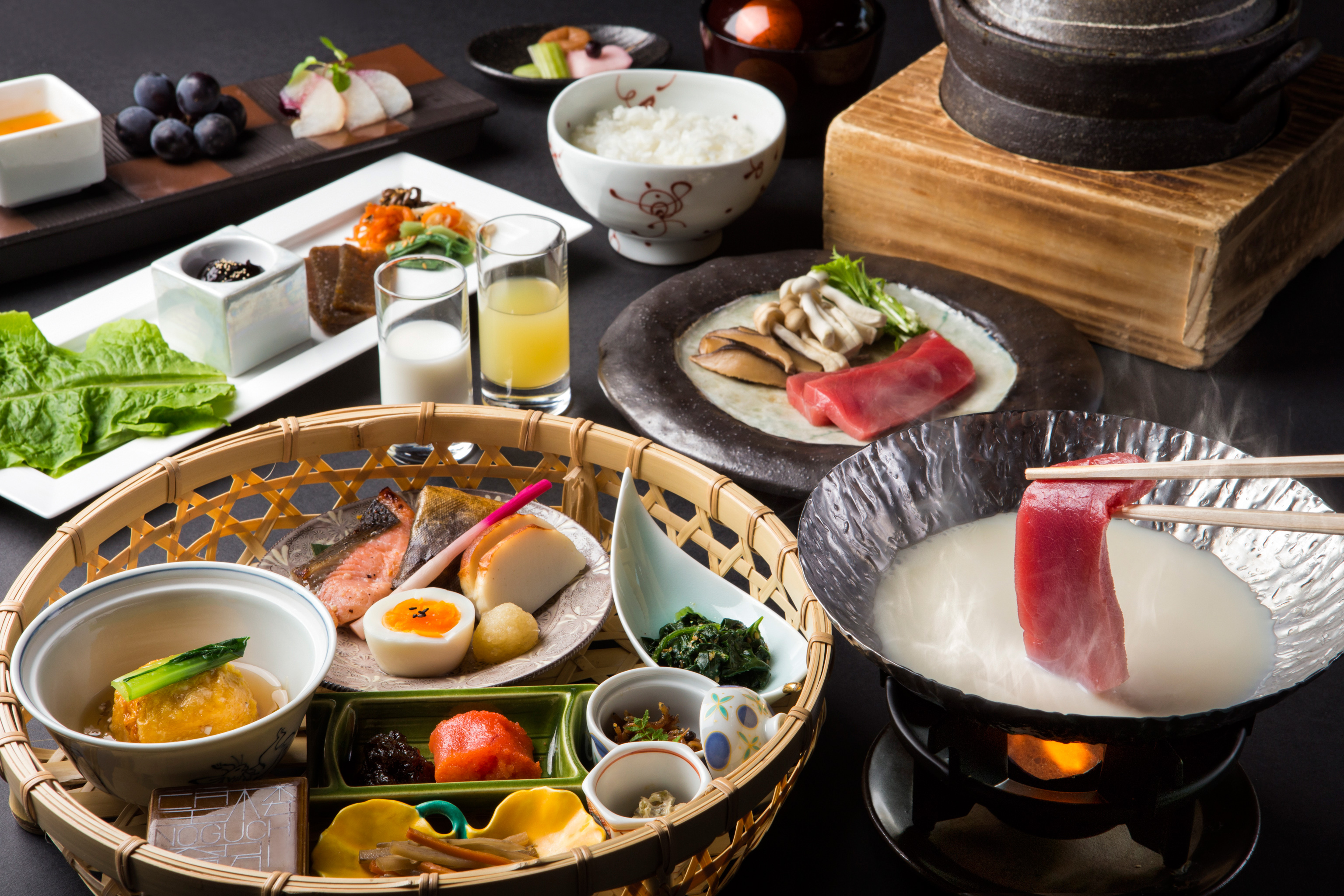 Breakfast prepared with careful attention to the ingredients and cooking methods makes a fitting end to your stay
Choose from Japanese cuisine with kettle-cooked rice and a range of complementary side dishes, or western cuisine with fresh-baked bread and meat dishes made from brand name Hokkaido beef.