Savor delicacies from the gourmet hotspot of Hokkaido with all five senses.
A wide range of dishes made with carefully selected ingredients.

We want our guests to enjoy delicious local delicacies,
so we serve cuisine made with local seasonal ingredients from Noboribetsu and Hokkaido based on the concept of "Jibie."a
Enjoy the feast of your dreams with choice ingredients only possible in a gourmet hotspot like this.
DINNER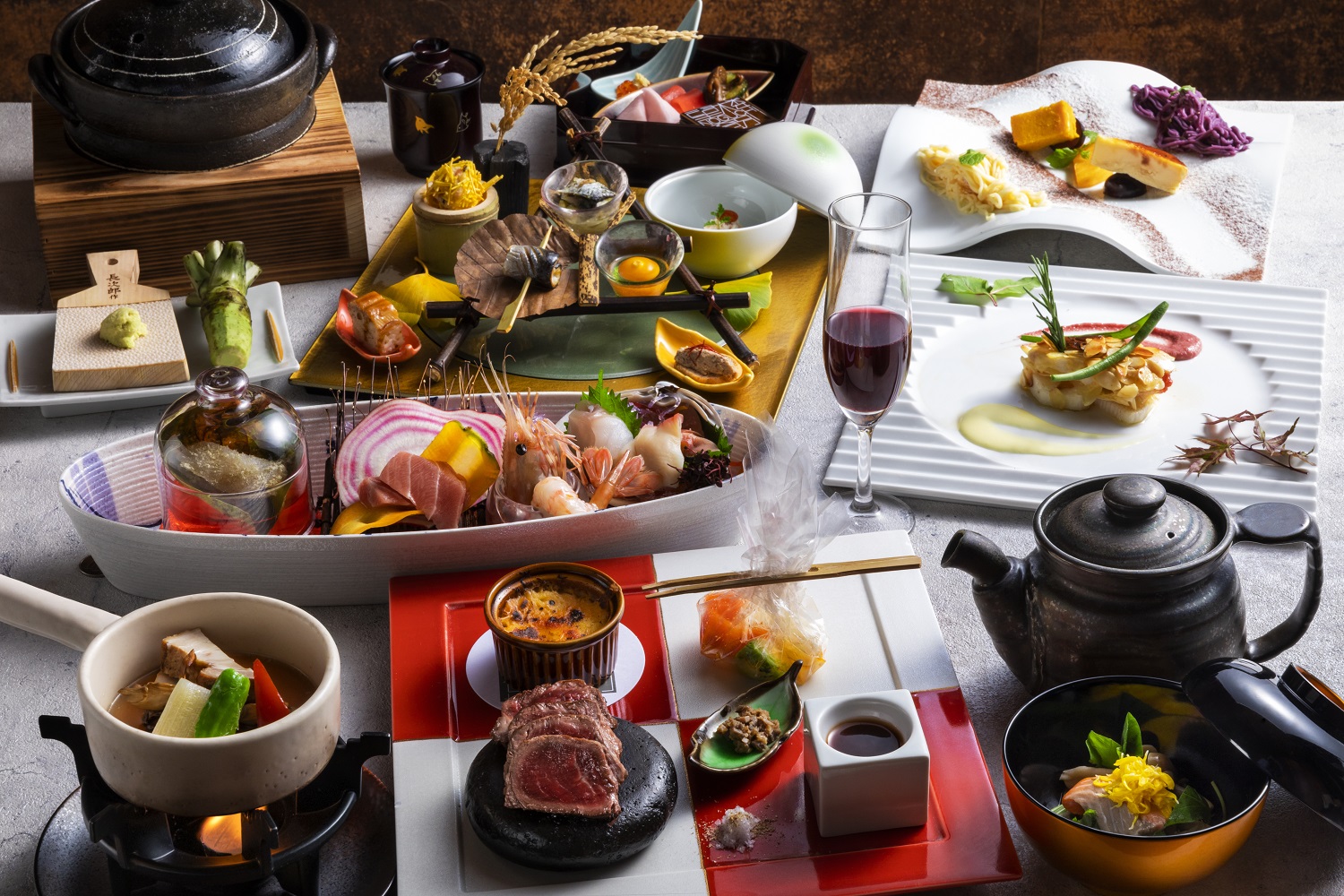 Japanese-western kaiseki cuisine combines Japanese and French styles to bring out the best in the ingredients
The concept of "hikizan" (subtraction) in Japanese cuisine discards anything unnecessary, and the French concept of "nouvelle cuisine" respects tradition while bringing in new ideas. The Japanese-western kaiseki cuisine combines these concepts and uses cooking methods that bring out the flavors of the seasonal ingredients from Hokkaido.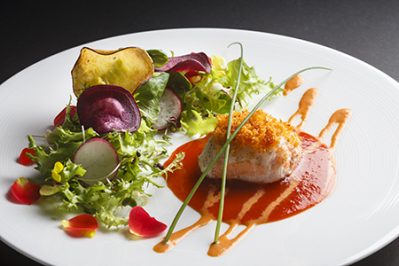 Must-Try Dish
Shizakana made from Hokkaido's leading brand name beef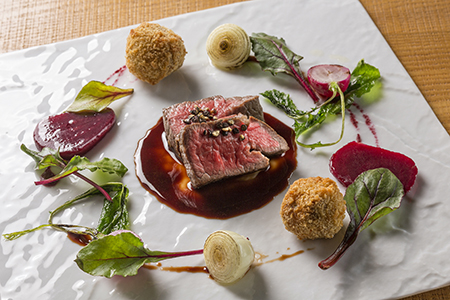 Seasonal sashimi served with Noboribetsu-grown wasabi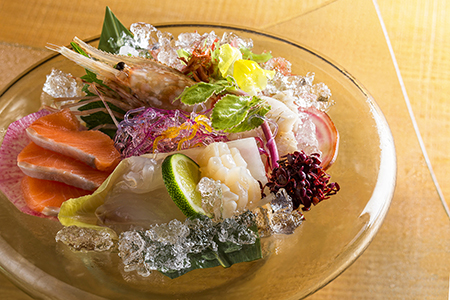 Kettle-cooked Yumepirika rice grown in Hokkaido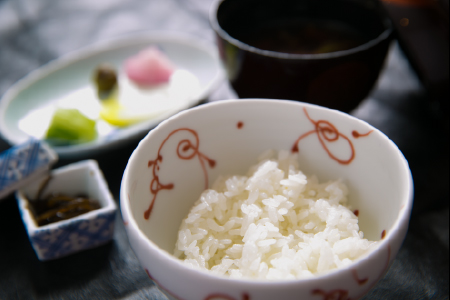 Spring 2023 Kaiseki Dinner Course ~WAKONYOUSAI, The Harmony~
Aperitif (Bourou Original Cocktail)
Long for Spring
cherry blossom liqueur, cherry blossom syrup, cranberry juice, lemon juice, condensed milk


Zensai (Appetizer)
Bamboo Shoot and Clam Pesto
Simmered Octopus and Hokkaido Snap Beans in Pink
Japanese Spanish Mackerel Confit with Butterbur Miso Sauce
Sweet Split Pea and Cherry Leaf Habutae*
Sakura Shrimp Cold Royale and Kelp Dashi Soup Jelly with Sea Urchin
Western Style Shiraae* with Colza and Walnut Balsamic Sauce
Biratori Pork Rillettes Tartine
Mashed Hokkaido Potato and Uncured Ham Petite Sushi

*Habutae: literally "feather-two-layer".
*Shiraae: mashed tofu salad


Saki Wan (Bowl Dish)
Green Ling and Hibernated Cabbage Potage Soup Japanese Style


Otsukuri (Sashimi Dish)
Hokkaido Pacific Herring Marinade
Hen Clam with Tosa Shoyu
Rockfish with Plum Sauce
Tuna with Tosa Shoyu
Botan Shrimp with Tosa Shoyu
Jellied Okhotsk atka Mackerel and Mizuna* Leaves

*Tosa Shoyu: soy sauce flavored with bonito broth
*Yuba: tofu skin sheet made from boiled soy milk
*Mizuna: pothered mustard leaves


Nakazara (Light Dish)
Cherry Salmon Yuan Grill* and Mashed Lily Bulb
with Kobu Cha* Sauce
Whitebait Fran with Beetroot White Wine Sauce

*Yuan Grill: traditional Japanese grill style with flavored fish or meat.
*Kobu Cha: powdered kombu(kelp)


Shiizakana (Main Dish)
Filet Mignon Rock Grill
served with red wine salt, sauce choron (sauce béarnaise + tomato purée)

Round Roast Shio-Koji* Marinade with Apple Sauce Japanese Style 
Kitaakari* Potato with Hishiho-Miso Sauce Lyonnaise

*Shio(salt) Koji: a fermented rice with salt, widely used as seasoning and ingredient.
*Kitaakari: One of the brand potatoes in Hokkaido.
*Hishiho-Miso: also called Moromi Miso, a mild, chunky miso made with grains of rice.


Shokuji (Rice Dish) and Tome-Wan (Soup Dish)
Yumepirika Rice in Traditional Rice Pot

White Miso Soup
seaweed, Umebu*, scallion
*Umebu: Japanese apricot(ume)-shaped wheat gluten cake called Ofu

Kyarabuki*
Pickled Asparagus
Alpine Leek Shoyu Pickles
Plum-Flavored Cherry
Red Perilla Flavored Cabbage
Fish-Roe-Tossed Sakura Bream

*Kyarabuki: gently cooked butterbur stems with sweeten soy sauce.

Wasabi Kombu from Fujisaki Wasabi-En

*Yumepirika Rice: Hokkaido-brand rice, No.1-ranked in Japan for twelve consecutive years.
*Wasabi Kombu: specialty of Noboribetsu, green horseradish and kelp boiled down in sweetened soy sauce.
Best friend with rice and Japanese sake.


Dessert
Sakura Anmitsu*
Bamboo Shoot Confiture & Roasted Green Tea Brûlée
Red Bean Brownie Cake
Milky Mochi* Tart

* Anmitsu: traditional Japanese dessert made with sticky rice cake, sweet red bean paste, and molasses syrup.
*Mochi: sticky rice cake

BOUROU NOGUCHI NOBORIBETSU
※Please note that the menu items of dinner course are subject to change according to the availability.

BREAKFAST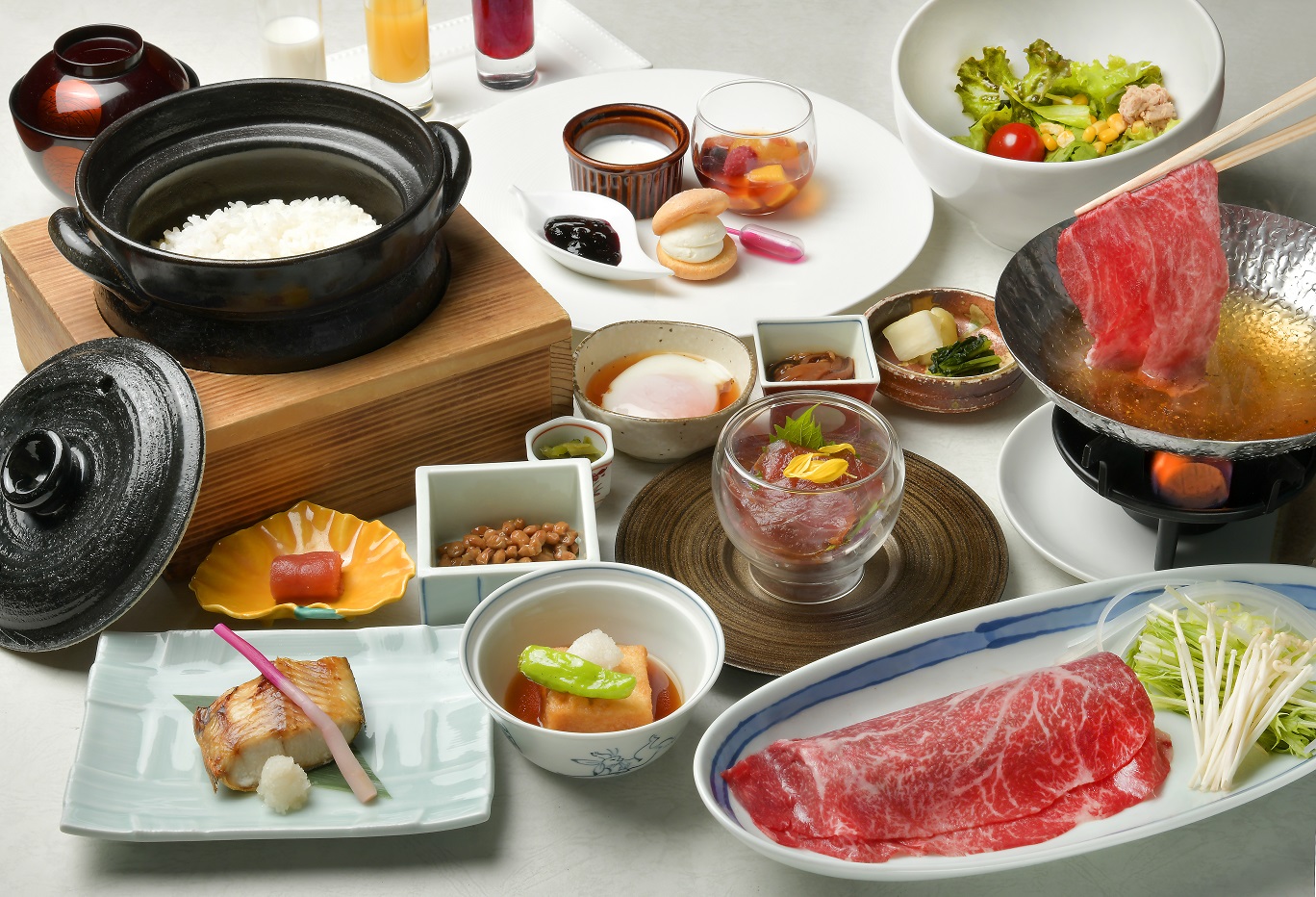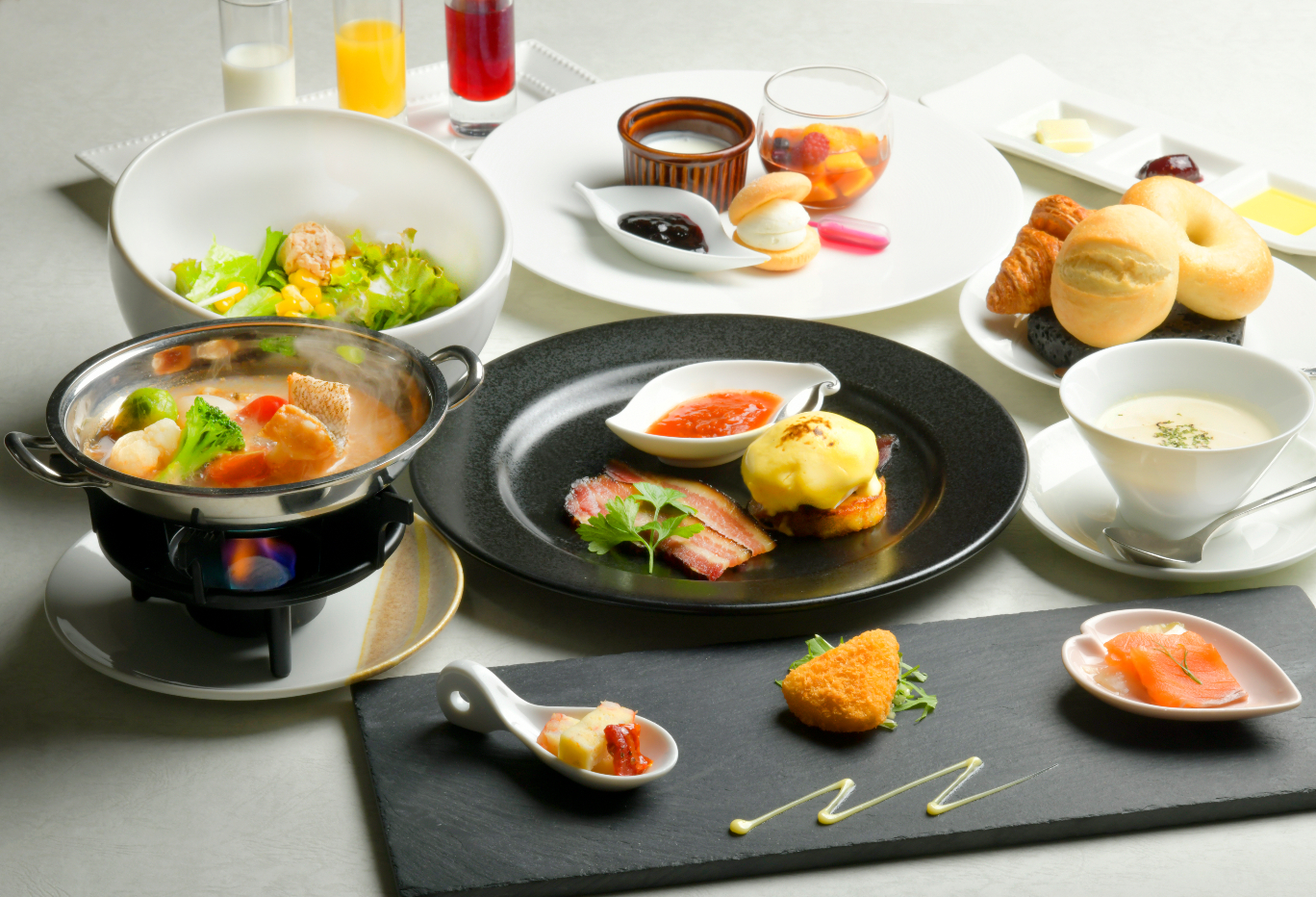 Breakfast prepared with careful attention to the ingredients and cooking methods makes a fitting end to your stay
Choose from Japanese cuisine with kettle-cooked rice and a range of complementary side dishes, or western cuisine with fresh-baked bread and meat dishes made from brand name Hokkaido beef.