Savor delicacies from the gourmet hotspot of Hokkaido with all five senses.
A wide range of dishes made with carefully selected ingredients.

We want our guests to enjoy delicious local delicacies,
so we serve cuisine made with local seasonal ingredients from Noboribetsu and Hokkaido based on the concept of "Jibie."a
Enjoy the feast of your dreams with choice ingredients only possible in a gourmet hotspot like this.
DINNER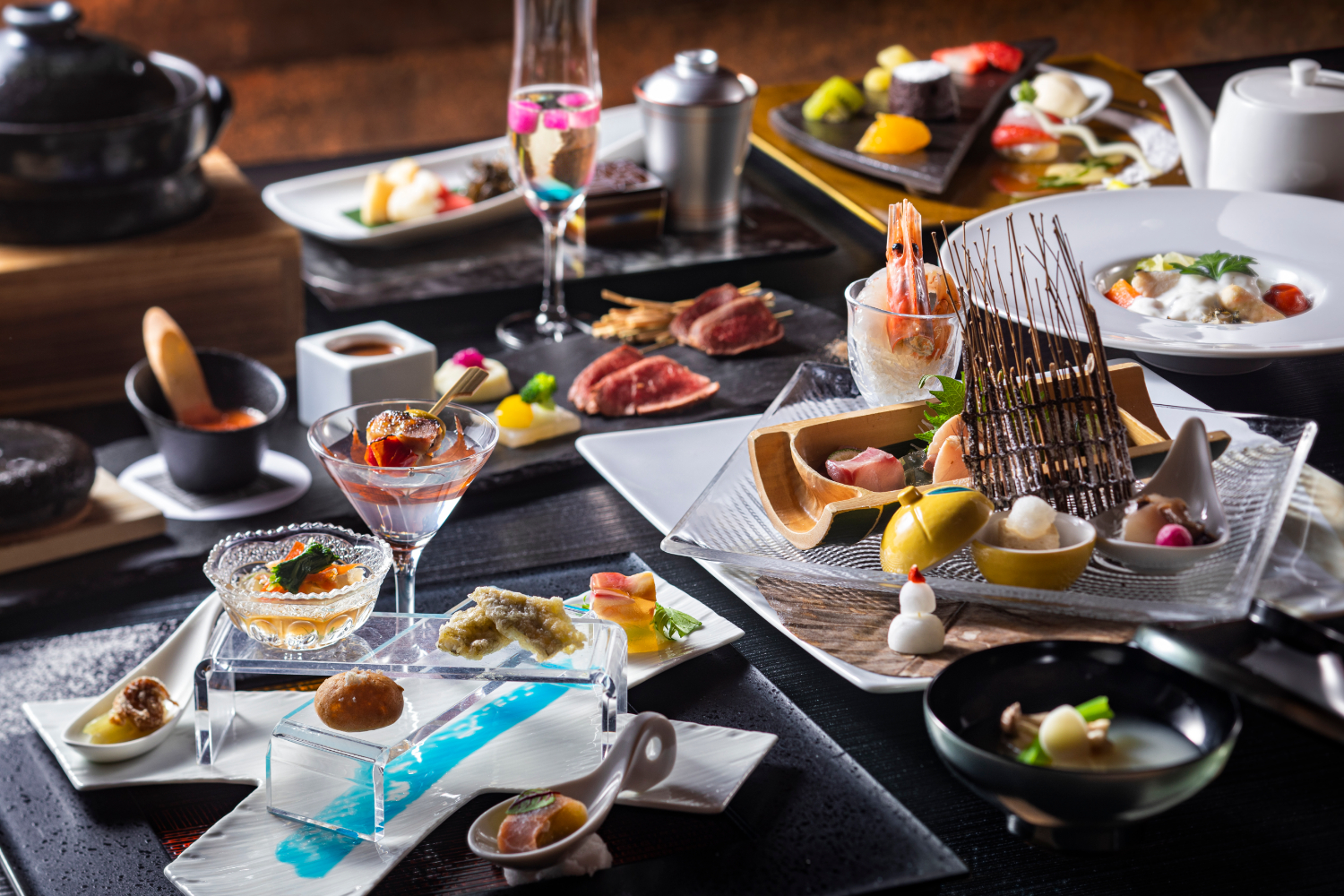 Japanese-western kaiseki cuisine combines Japanese and French styles to bring out the best in the ingredients
The concept of "hikizan" (subtraction) in Japanese cuisine discards anything unnecessary, and the French concept of "nouvelle cuisine" respects tradition while bringing in new ideas. The Japanese-western kaiseki cuisine combines these concepts and uses cooking methods that bring out the flavors of the seasonal ingredients from Hokkaido.

Dinner is served from 6.00pm and 7.30pm.
Dinner is served until 10:00pm.
Must-Try Dish
Shizakana made from Hokkaido's leading brand name beef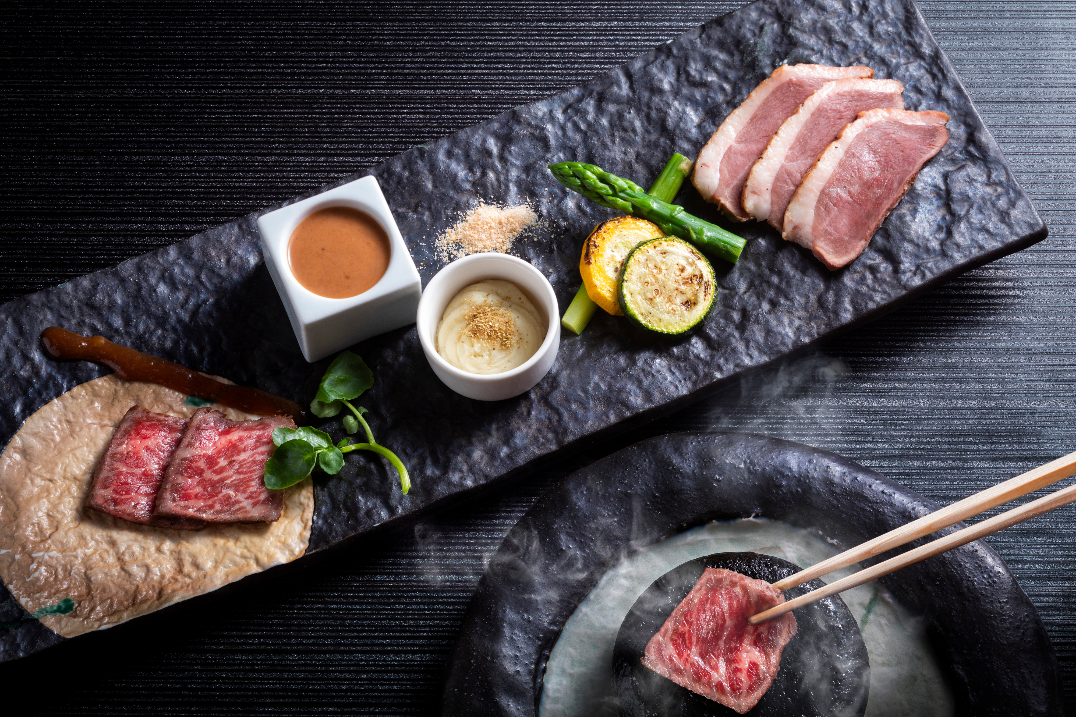 Seasonal sashimi served with Noboribetsu-grown wasabi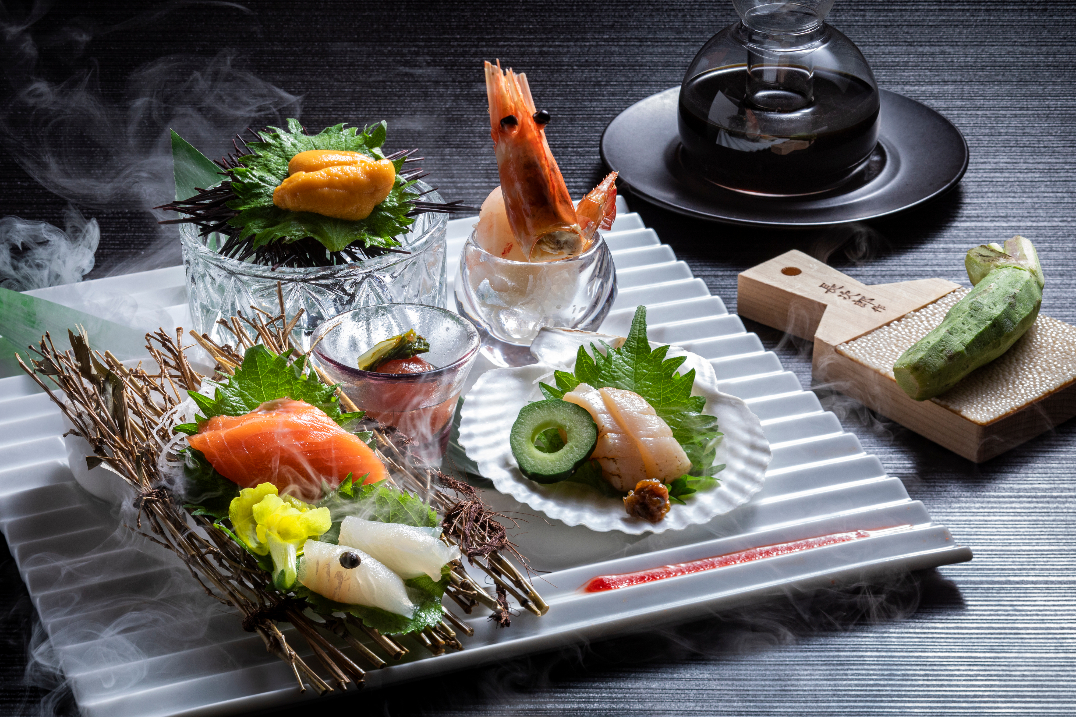 Kettle-cooked Yumepirika rice grown in Hokkaido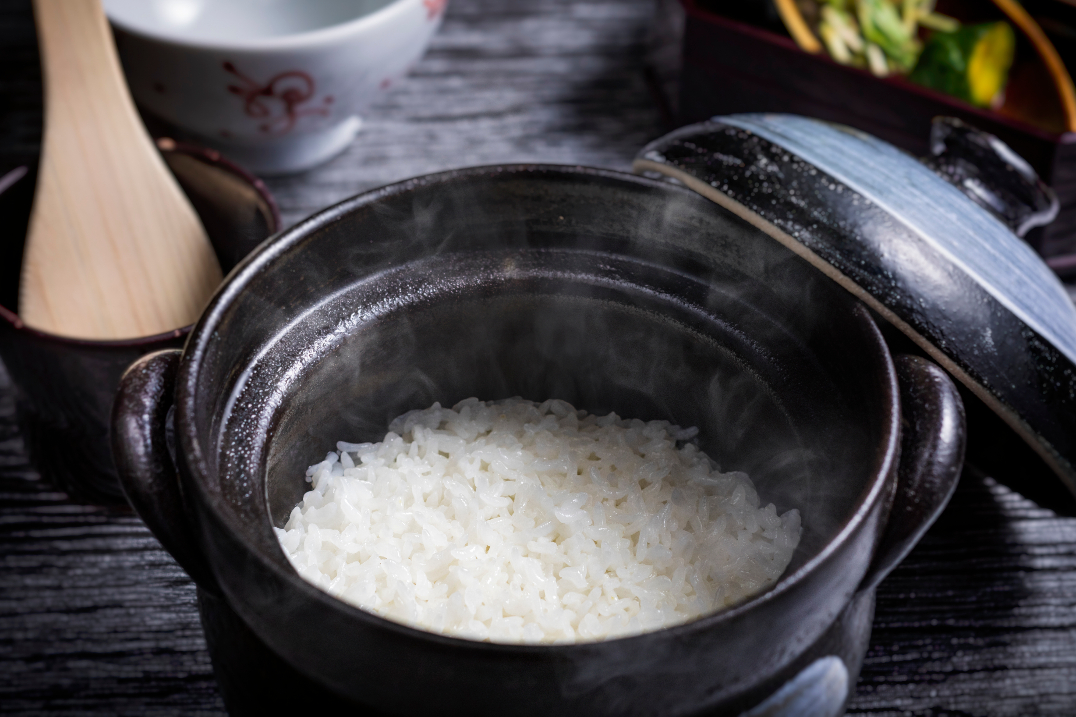 Summer 2023 Kaiseki Dinner Course~WAKONYOUSAI, The Harmony~
Aperitif (Bourou Original Cocktail)
HOUKASEN 鳳夏泉 ~ Summer Phoenix
Chitosezuru(Japanese sake), pineapple, cassis liqueur
Zensai (Appetizer)
Conger Eel and Watershield with Tosazu* Jelly
Ezo-Abalone with Seaweed Bourguignon
Jellied Chicken and Grilled Eggplant
Miso-Marinated Egg's Chinese Lantern
White Asparagus Uncured Ham Roll with Uncured Ham Ice Cream
Cold Buckwheat Noodle with Vegetable Juice
Chilled Savory Egg Pudding with Clam and Okra
*Tosazu: Tosa vinegar, vinegar flavored with bonito broth
Saki Wan (Bowl Dish)
Rockfish Ball with Smooth Kudzu* Soup
Lettuce espuma foam, grilled Shimeji mushroom, julienned Welsh onion, lime
*kudzu: a high-quality starch generally used for Japanese food and wagashi.

Otsukuri (Sashimi Dish)
Giant Scallop Yakishimo* Style with Japanese Horseradish Miso
Flounder with paprika sauce
Summer Salmon with Plum Sauce
Botan Shrimp with Tosa Shoyu
Salty Sea Urchin
For the refreshment: Pickled Cherry Tomato
*Yakishimo: cooking method for sashimi to sear the skins of fresh fish and chills them in the ice-cold water.
*Tosa Shoyu: soy sauce flavored with bonito broth
Nakazara (Light Dish)
Cold Bouillabaisse with Lobster Consommé
Hokkaido Seafood Quintet:
Olive Flounder, Kegani Crab, Sakhalin Surf Clam, Whelk, Alaskan Pink Shrimp
with Basil Sauce, Creamy Lobster Sauce, Edamame Bavarois
Shiizakana (Main Dish)
Shiraoi Beef * Rock Grill
served with pickled plum espuma sauce, madeira red wine sauce, tomato salt
Miso-Marinated Duck Roast 
Mushed Potato with Japanese Pepper
*Shiraoi Beef: Japanese black wagyu beef raised in Shiraoi, the southern town of Hokkaido.
Shokuji (Rice Dish) and Tome-Wan (Soup Dish)
Yumepirika Rice in Traditional Rice Pot
White Miso Soup
fresh Yuba(tofu skin), mozuku seaweed, scallion
Uniku* with Shiraoi Beef and Sea Urchin
Pickled Myoga Japanese Ginger
Hokkaido Vegetable Shibazuke* Pickles
Shoyu-Pickled Okras
*Uniku: dish with beef and sea urchin
*Shibazuke pickles: vegetable pickles pickled and flavored with salt and red perilla leaves
Wasabi Kombu from Fujisaki Wasabi-En
*Yumepirika Rice: Hokkaido-brand rice, No.1-ranked in Japan for twelve consecutive years.
*Wasabi Kombu: specialty of Noboribetsu, green horseradish and kelp boiled down in sweetened soy sauce.
Best friend with rice and Japanese sake.
Dessert
Lemon Sorbet with Mirin* Caramel Sauce
Crème d'Ange with Hokkaido Fromage Blanc
Raindrop Cake with Espresso Whip
Fruit Gratin Tart with Yuzugosho*
*Mirin: Japanese cooking wine with more sugar than regular sake.
*Yuzugosho: Japanese condiment made from Yuzu the Japanese citrus and black pepper c
Bourou NOGUCHI Noboribetsu Original Blend Coffee
Black Tea ~ Darjeeling
Mint Lemonade

BOUROU NOGUCHI NOBORIBETSU
※Please note that the menu items of dinner course are subject to change according to the availability.

BREAKFAST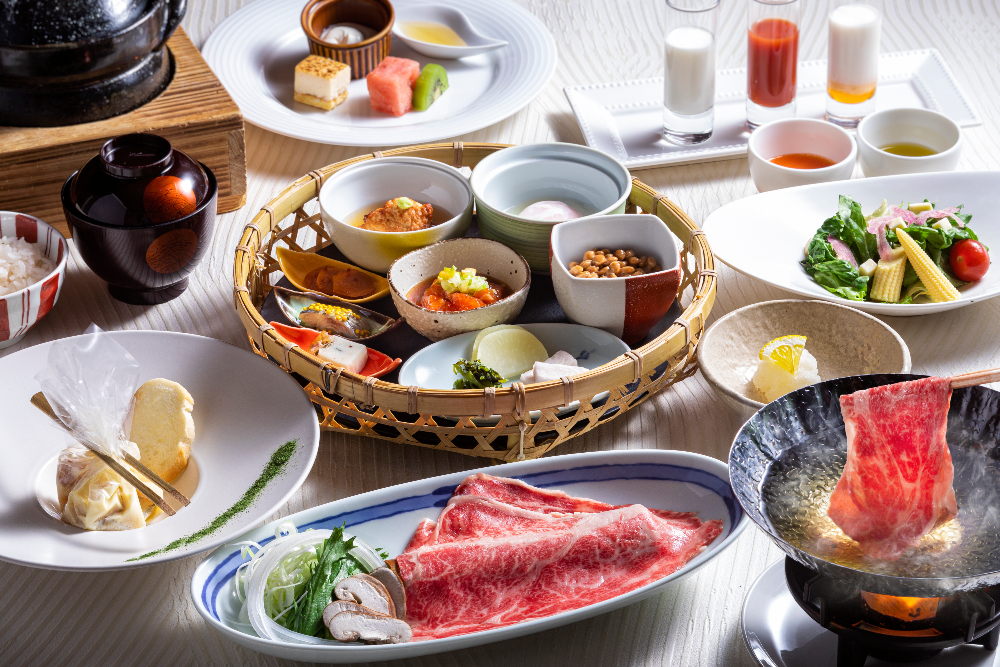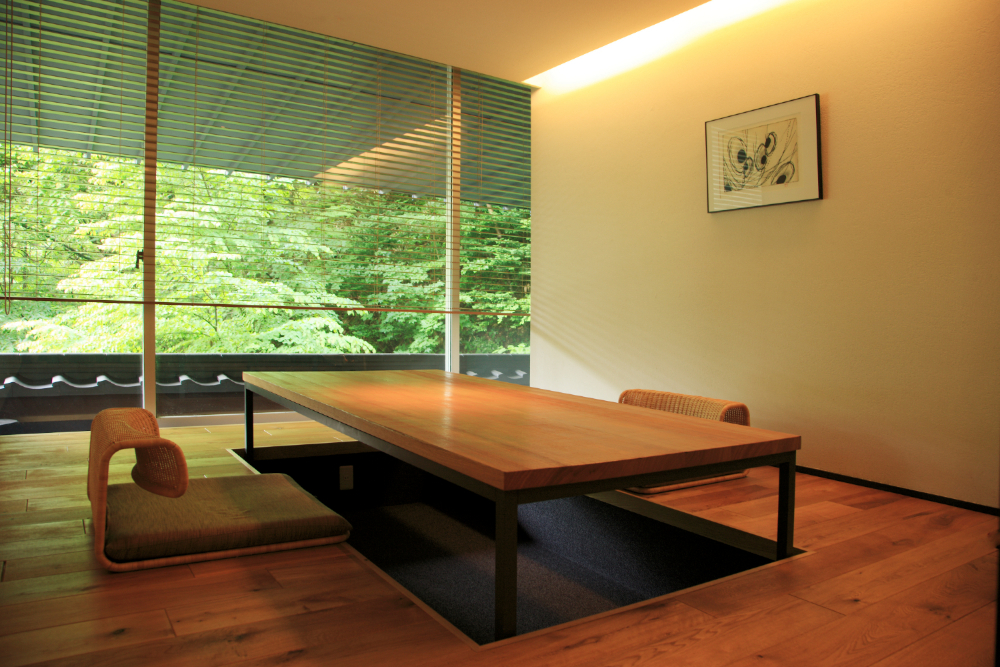 Breakfast prepared with careful attention to the ingredients and cooking methods makes a fitting end to your stay
Please enjoy our breakfast, which is a mixture of Japanese and Western food.

【Breakfast open hours】: from 7.30am until 11:00am (L/O 9.30am.)