Savor delicacies from the gourmet hotspot of Hokkaido with all five senses.
A wide range of dishes made with carefully selected ingredients.

We want our guests to enjoy delicious local delicacies,
so we serve cuisine made with local seasonal ingredients from Noboribetsu and Hokkaido based on the concept of "Jibie."a
Enjoy the feast of your dreams with choice ingredients only possible in a gourmet hotspot like this.
DINNER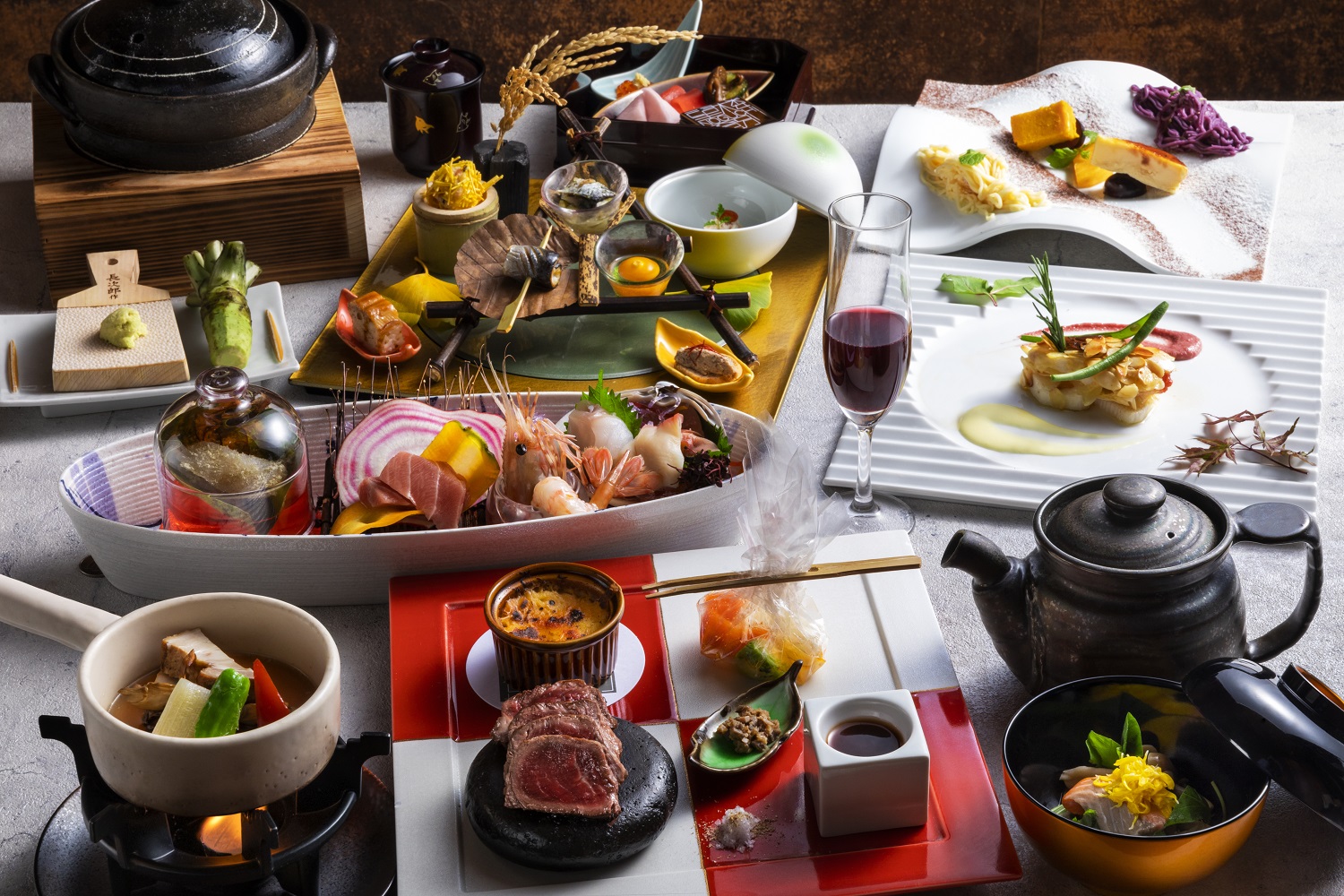 Japanese-western kaiseki cuisine combines Japanese and French styles to bring out the best in the ingredients
The concept of "hikizan" (subtraction) in Japanese cuisine discards anything unnecessary, and the French concept of "nouvelle cuisine" respects tradition while bringing in new ideas. The Japanese-western kaiseki cuisine combines these concepts and uses cooking methods that bring out the flavors of the seasonal ingredients from Hokkaido.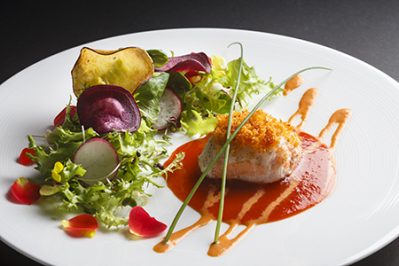 Must-Try Dish
Shizakana made from Hokkaido's leading brand name beef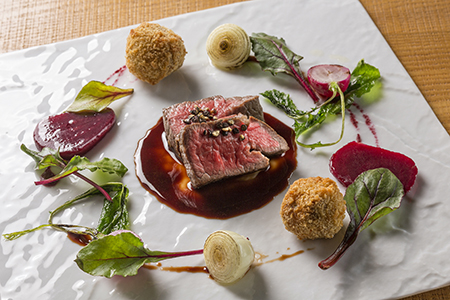 Seasonal sashimi served with Noboribetsu-grown wasabi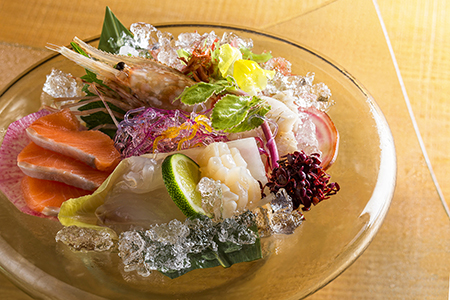 Kettle-cooked Yumepirika rice grown in Hokkaido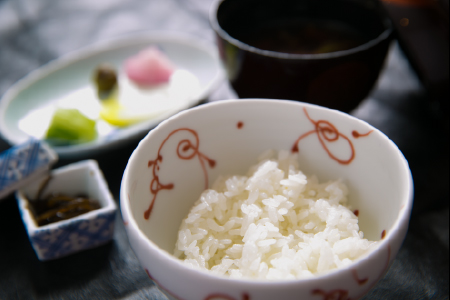 Autumn 2020 Kaiseki Dinner Course ~A Walk in the Amber Forest~ Bourou NOGUCHI Noboribetsu
Aperitif (Bourou Original Cocktail)
Akiiro ~ Autumn Drop
grape juice, cidre, cassis liqueur, fresh blueberries

Hassun (Appetizer)
Star Anis-Flavored Pork Rib
grilled Japanese leek, paprika, Maitake mushroom, Shishito Sweet Chili
Noodle Chestnut Burrs with Cocoyam and Bacon
Pacific Herring and Roasted Eggplant with *Tomato Dressing
Fruity Winter Cherry in Syrup
Mackerel Rillettes
Sanma Pacific Saury *Yuan Grill
Tofu-Dressed Chestnut and Snow Crab
Cooked Conger Eel Sushi

*Tomato Dressing: made from fresh tomatoes hand-picked from NOGUCHI Kitayuzawa Farm
*Yuan Grill: fish, meat or vegetable grills seasoned with citrus-seasoned soy sauce.
Owan (Bowl Dish)
Salmon and Burdock *Kudzu-Starch Soup
Shimeji mushrooms, edible daisy, Mitsuba leaves

*Kudzu: Japanese starch to thicken and smoothen stock and soup, also called Japanese arrowroot
Otsukuri (Fresh Sashimi Dish)
Enjoy our fresh sashimi also with Hon Wasabi Japanese horseradish.

Sakhalin Surf Clam with salty *Ponzu Sauce
Flathead Flounder with *Irizake
Botan Shrimp with *Tosa Shoyu Sauce
Fatty Tuna with Tosa Shoyu Sauce
Kelp-Seasoned Flathead Flounder with Irizake

*Ponzu: soy-sauce or salt based sour sauce made with citrus and vinegar.
*Irizake: concentrated Japanese Sake seasoned with pickled plum
*Tosa Shoyu: soy sauce flavored with bonito broth
Nakazara(Light Dish)
Rockfish Crispy Almond Grill with Autumn Sauces
beet sauce, saffron sauce
Shiizakana (Main Dish)
Slow-Roasted Noboribetsu Beef Filet Mignon
red wine sauce, duxelles (mushroom sauce), burdock salt, Wasabi Japanese horseradish soy sauce

Shiraoi Beef *Hachis Parmentier
with Steamed Vegetable Ajillo Style

*Hachis Parmentier: Shepherd's Pie
Shokuji (Rice Dish) and Tome-Wan (Soup Dish)
Traditionally Cooked *Yumepirika Rice

Miso Soup
Japanese Scallop, Aonori dried green laver, scallion

Chef's Special Homemade Pickles Trio
Chokeberry-Pickled Japanese Radish
Miso-Flavored Cucumber
Sweet-Vinegared Turnip

Wasabi Kombu* from *Fujisaki Wasabi-En

Ginger-Tossed Ikura Salmon Caviar

*Yumepirika Rice: Hokkaido-brand rice, No.1-ranked in Japan for eight consecutive years.
*Wasabi Kombu: specialty of Noboribetsu, green horseradish and kelp boiled down in sweetened soy sauce.
*Fujisaki Wasabi-En: traditional Japanese horseradish brand in Noboribetsu established in 1915.

Served with Sencha green tea or Hojicha roasted green tea.
Dessert
*Gâteau au Potiron
*Crema Catalana
Golden and Violet Sweet Potato Monc Blanc Cakes
Seasonal Fruits

*Gâteau au Potiron: pumpkin cake
*Crema Catalana: Spanish crème brûlée
・
Bourou NOGUCHI Noboribetsu Original Blend Coffee
Darjeeling Tea
Black Sesame Milk Tea
BOUROU NOGUCHI NOBORIBETSU
※Please note that the menu items of dinner course are subject to change according to the availability.

BREAKFAST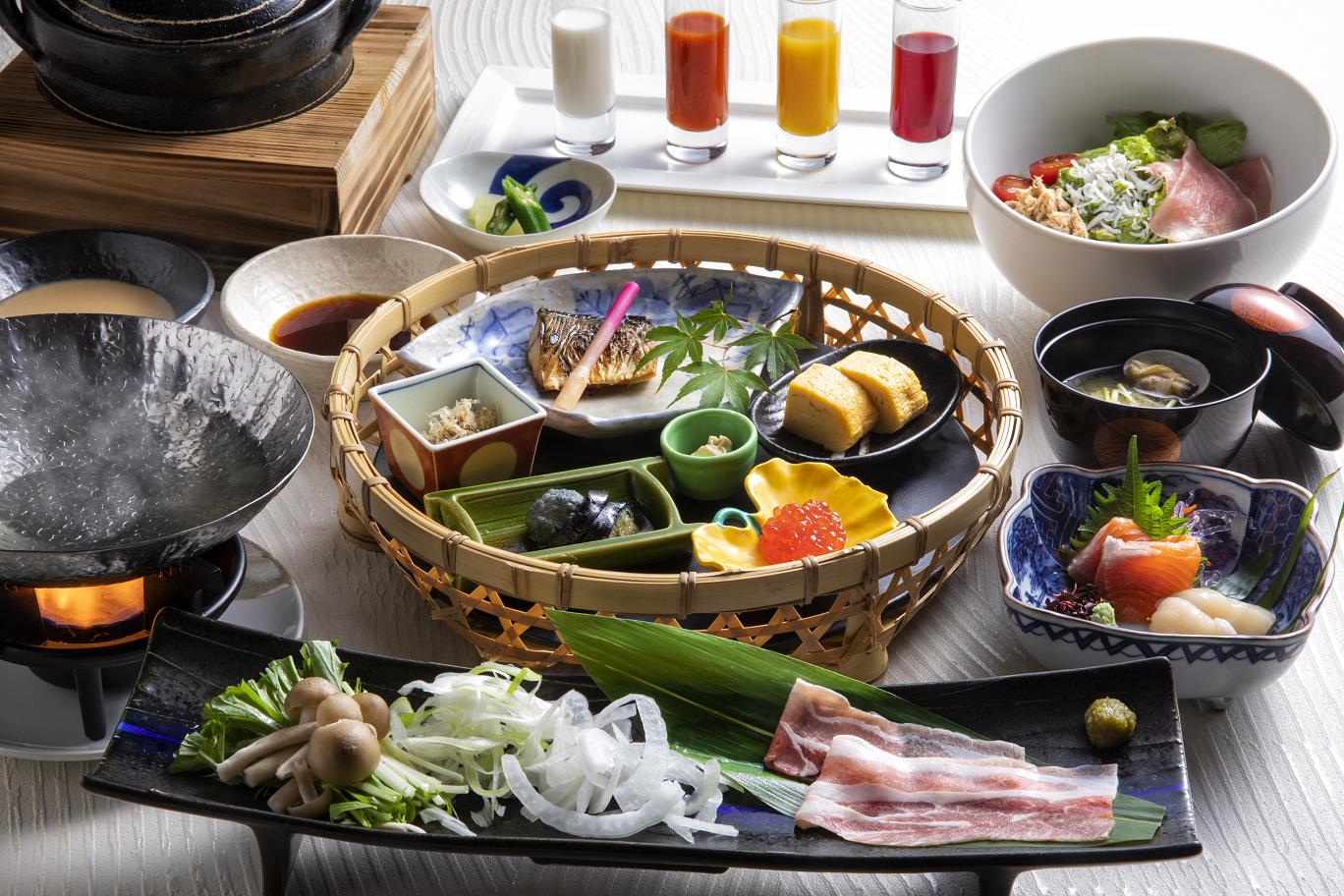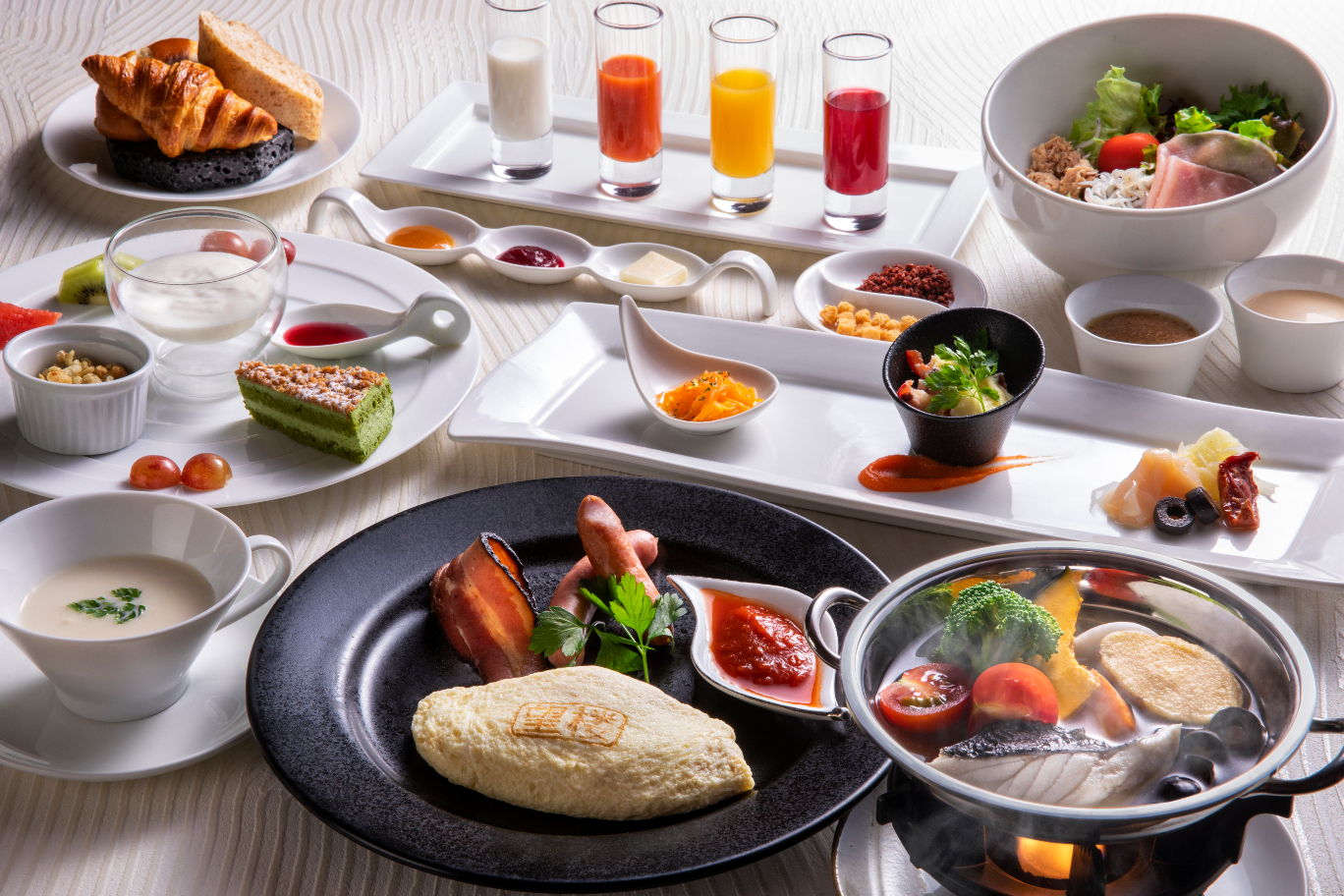 Breakfast prepared with careful attention to the ingredients and cooking methods makes a fitting end to your stay
Choose from Japanese cuisine with kettle-cooked rice and a range of complementary side dishes, or western cuisine with fresh-baked bread and meat dishes made from brand name Hokkaido beef.