Savor delicacies from the gourmet hotspot of Hokkaido with all five senses.
A wide range of dishes made with carefully selected ingredients.

We want our guests to enjoy delicious local delicacies,
so we serve cuisine made with local seasonal ingredients from Noboribetsu and Hokkaido based on the concept of "Jibie."a
Enjoy the feast of your dreams with choice ingredients only possible in a gourmet hotspot like this.
DINNER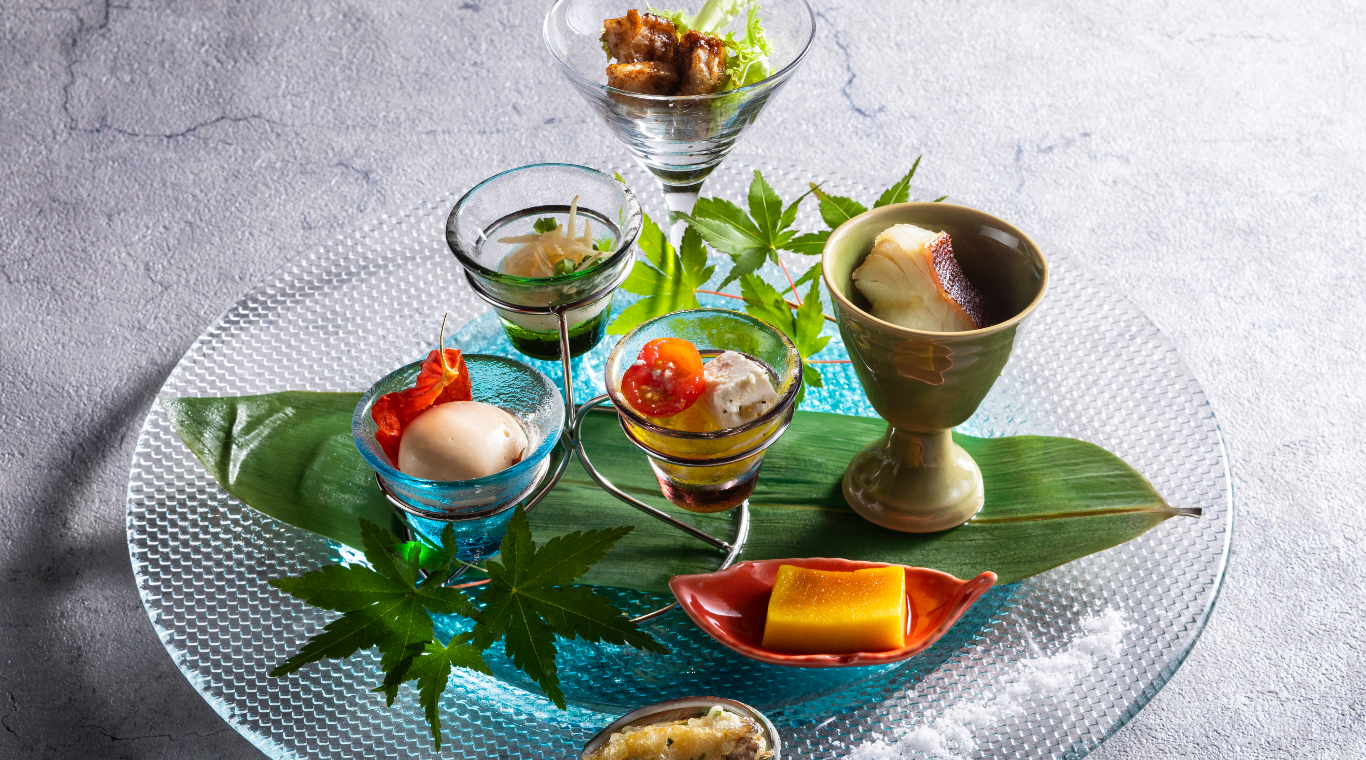 Japanese-western kaiseki cuisine combines Japanese and French styles to bring out the best in the ingredients
The concept of "hikizan" (subtraction) in Japanese cuisine discards anything unnecessary, and the French concept of "nouvelle cuisine" respects tradition while bringing in new ideas. The Japanese-western kaiseki cuisine combines these concepts and uses cooking methods that bring out the flavors of the seasonal ingredients from Hokkaido.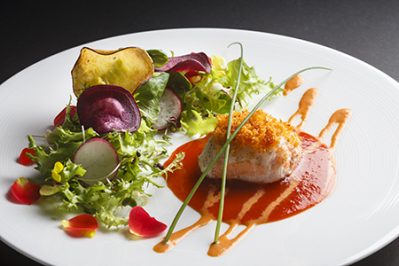 Must-Try Dish
Shizakana made from Hokkaido's leading brand name beef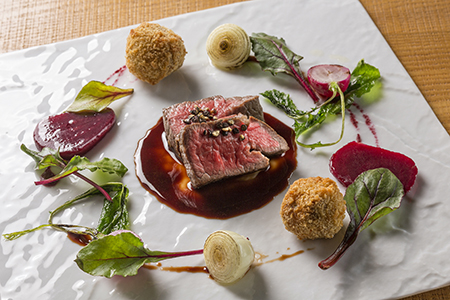 Seasonal sashimi served with Noboribetsu-grown wasabi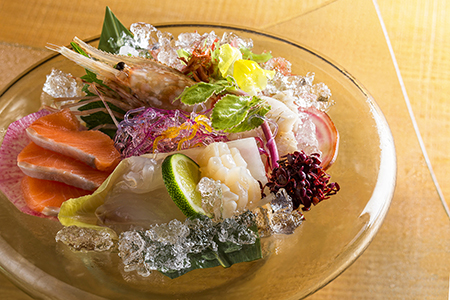 Kettle-cooked Yumepirika rice grown in Hokkaido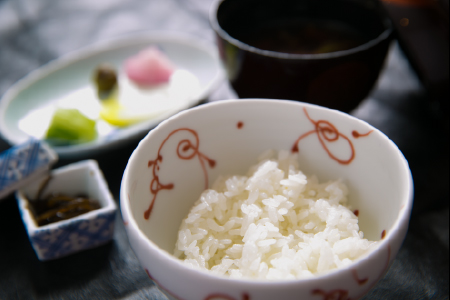 Spring 2020 Kaiseki Dinner Course ~Awakening of a New Season~ Bourou NOGUCHI Noboribetsu
Aperitif
Kazashigusa
cherry blossom liqueur, cranberry juice, edible cherry blossoms

cherry blossom liqueur, cranberry juice, edible cherry blossoms

Kazashigusa is an ancient Japanese word created in Shin Kokin Wakashu(New Collection of
Ancient and Modern Poems in the 1400s) meaning a stem of flowers as hair stick, especially cherry blossoms.
Enjoy a sweet and sour spring flavor with our original cocktail.
Sakizuke (Amuse-Bouche)
Soymilk Pot-au-feu with Spring Cabbage and Bamboo Shoot Tips

bacon, cabbage, bamboo shoot tips, dried tomato, Mizuna leaf, red beet
Zensai (Appetizer)
Fava Bean Kakiage* Tempura
Marinated Giant Butterbur and Plantain Lily
Pacific Herring Carpaccio
Octopus and Japanese Leek with Vinegared Miso Sauce
Bamboo Shoot with Moromi* Mayo Sauce
Canola Blossom Raw Ham Roll with Yolk Vinegar Sauce
Chicken* and Couscous pâté

Kakiage Tempura; a type of tempura commonly made with small-sized seafood and shredded vegetables
Moromi: called "shoyu berries", flavorful soft chunks of soy sauce lees.
Chicken: branded chicken from Date-City, Hokkaido
Owan (Bowl Dish)
Whelk and Sakhalin Surf Clam with Bonito Dashi* Soup

bracken, Japanese parsley, seaweed, water shield, Shimeji mushroom, Yuzu*

*Dashi: Japanese soup stock made mostly with bonito and kelp
*Yuzu: Japanese citrus to add refreshing flavor
Otsukuri (Sashimi Dish)
Octopus with Tosa Shoyu* Sauce
Tuna with Tosa Shoyu Sauce
Shredded-Kelp-Marinated Flathead Flounder with Irizake*
Botan Shrimp with Tosa Shoyu Sauce
Kelp-Marinated Okhotsk Atka Mackerel with Bitter Orange Ponzu*

*Irizake: concentrated Japanese Sake seasoned with pickled plum
*Tosa Shoyu: soy sauce flavored with bonito broth
*Ponzu: soy-sauce based sour sauce made with citrus and vinegar.
Nakazara(Light Dish)
Sauteed Cherry Salmon with Green Pea Sauce

clam sausage, snap pea, green pea, tarragon
Shiizakana (Main Dish)
Roast Beef with Spring Sauces

Cherry Blossom Salt, Green Mustard Sauce, Alpine Leek Sauce
Spring Vegetables

Noboribetsu Beef, dried cherry blossoms, alpine leek, Brussel sprouts, Romanesco broccoli,
Boston lettuce, asparagus, loose leaf lettuce, cherry tomato
Shokuji (Rice Dish) and Tome-Wan (Soup Dish)
Yumepirika* Rice Freshly Cooked with Traditional Rice Pot

Red Miso Soup
giant butterbur bud, field horsetail, scallion

~Chef's Special Homemade Pickles Trio~
Pickled-Plum Flavored White Radish, Tosa Style* Sweet Chili
Koji (rice mold) -Pickled Cabbage and Sakura Shrimp

Wasabi Kombu* from Fujisaki Wasabi-En

Grilled Anago (Conger Eel) Hitsumabushi*

*Yumepirika Rice: Hokkaido-brand rice, No.1-ranked in Japan for eight consecutive years.
*Tosa Style Sweet Chili: Shishito (sweet chili) tossed with dried bonito flakes.
*Wasabi Kombu: specialty of Noboribetsu, green horseradish and kelp boiled down in sweetened soy sauce.
Best friend with rice and Japanese sake.
*Hitsumabushi: traditional rice dish of Nagoya-City since the end of the 1800s.
Rice mixed with grilled and chopped eel with Dashi soup or green tea to pour on the mixture to enjoy.
Dessert
Peach Sorbet
Strawberry Compote
Cream Cheese Bouchée
Gâteau au Matcha (Green Tea)

・

Bourou NOGUCHI Noboribetsu Original Blend Coffee
Tea (Darjeeling, Earl Gray)
Iced Rosehip Lemonade
BOUROU NOGUCHI NOBORIBETSU
※Please note that the menu items of dinner course are subject to change according to the availability.

BREAKFAST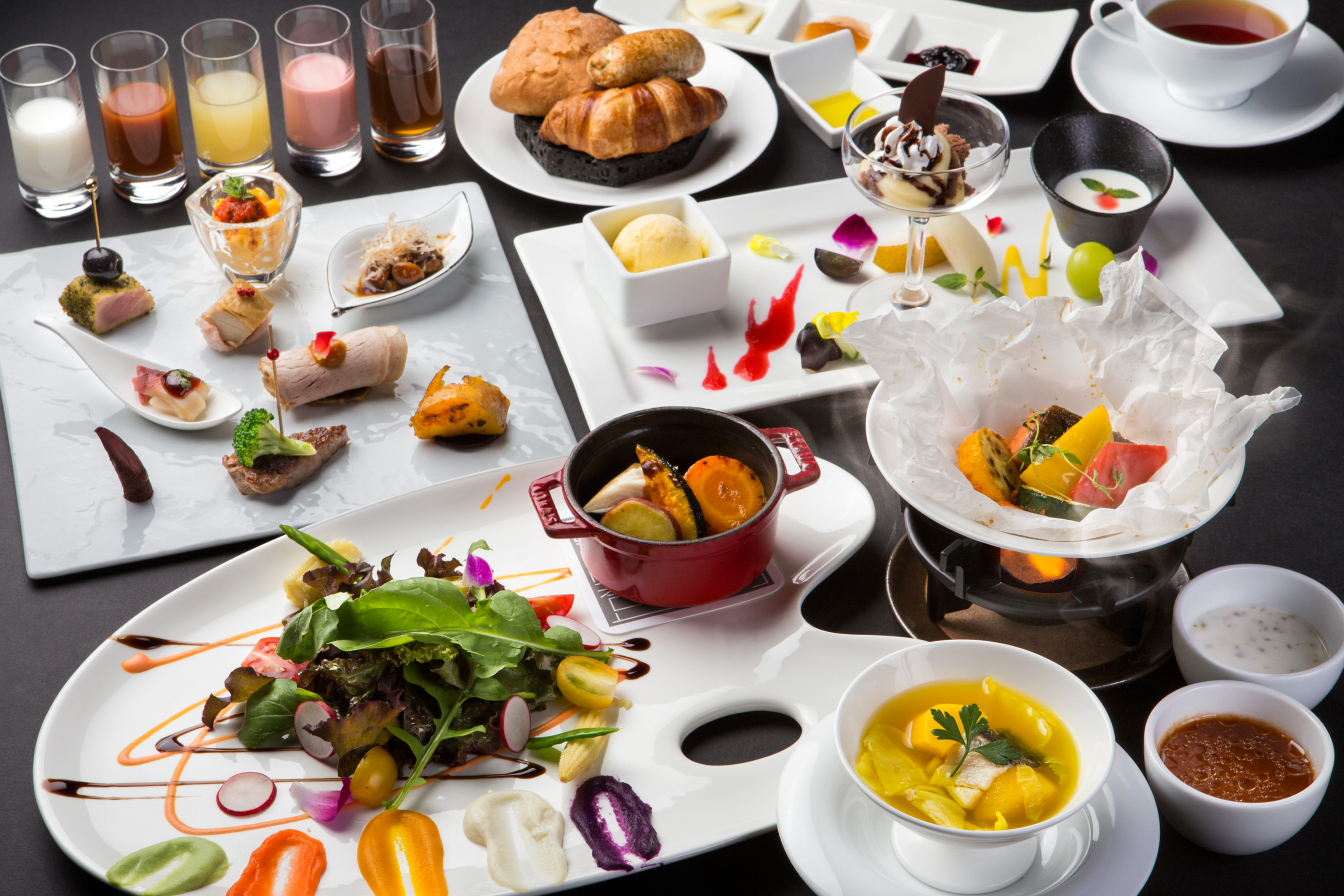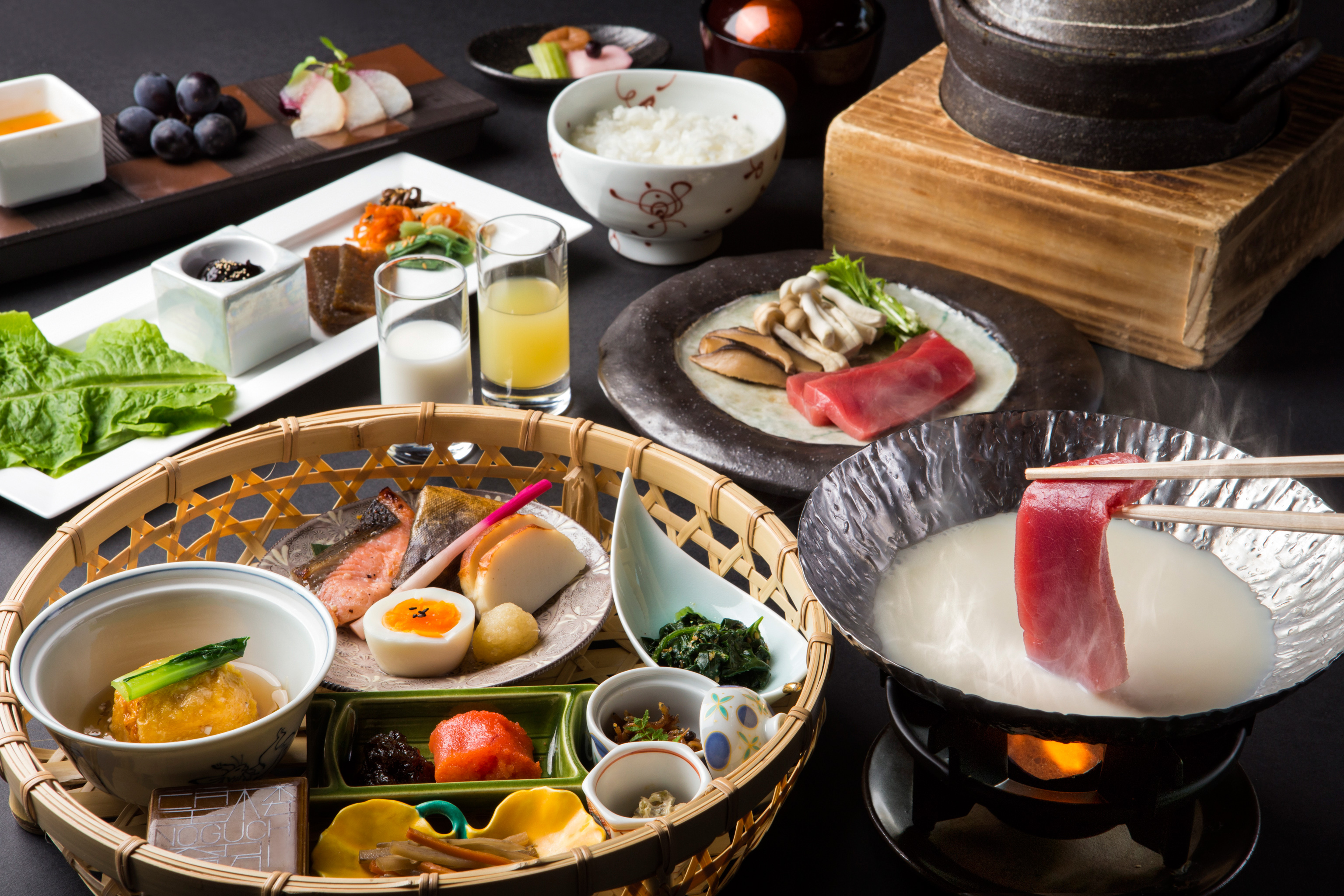 Breakfast prepared with careful attention to the ingredients and cooking methods makes a fitting end to your stay
Choose from Japanese cuisine with kettle-cooked rice and a range of complementary side dishes, or western cuisine with fresh-baked bread and meat dishes made from brand name Hokkaido beef.