Savor delicacies from the gourmet hotspot of Hokkaido with all five senses.
A wide range of dishes made with carefully selected ingredients.

We want our guests to enjoy delicious local delicacies,
so we serve cuisine made with local seasonal ingredients from Noboribetsu and Hokkaido based on the concept of "Jibie."a
Enjoy the feast of your dreams with choice ingredients only possible in a gourmet hotspot like this.
DINNER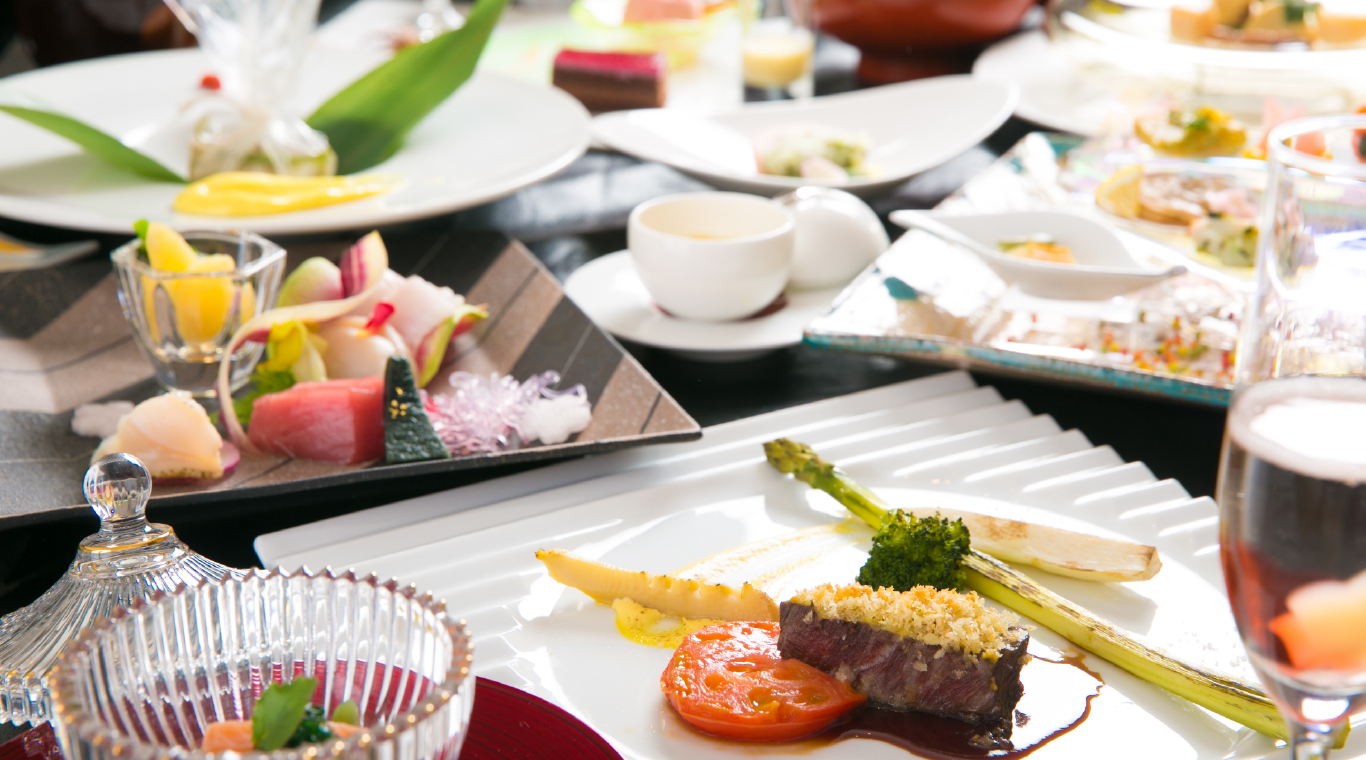 Japanese-western kaiseki cuisine combines Japanese and French styles to bring out the best in the ingredients
The concept of "hikizan" (subtraction) in Japanese cuisine discards anything unnecessary, and the French concept of "nouvelle cuisine" respects tradition while bringing in new ideas. The Japanese-western kaiseki cuisine combines these concepts and uses cooking methods that bring out the flavors of the seasonal ingredients from Hokkaido.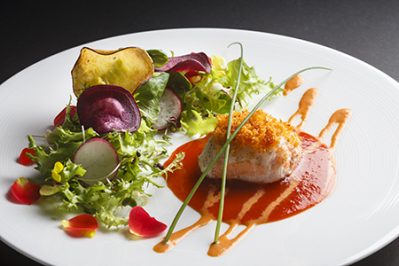 Must-Try Dish
Shizakana made from Hokkaido's leading brand name beef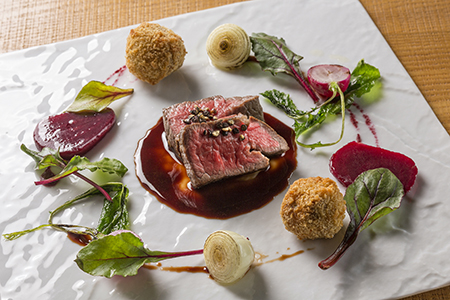 Seasonal sashimi served with Noboribetsu-grown wasabi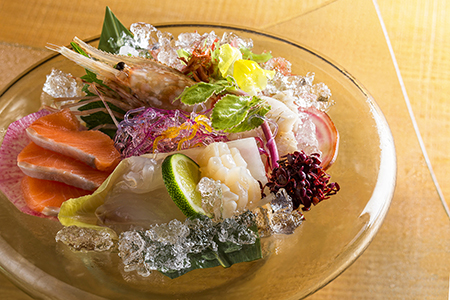 Kettle-cooked Yumepirika rice grown in Hokkaido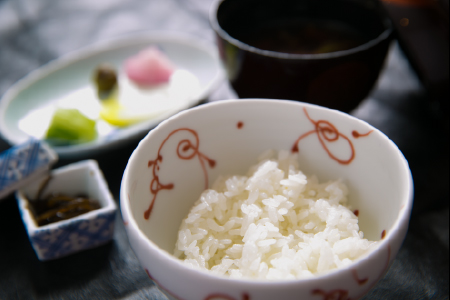 Spring Dinner Course "Shun-Sai(Palette in Bloom)"
Aperitif
"Shunko (Vernal Dew)"
BOUROU NOGUCHI's Original Cocktail
white wine, grape juice, kiwi syrup with Sakura(cherry blossom)-pink jelly


Saki-Zuke (amuse-gueule)
~ Landscape of Early Spring Fields in Hokkaido ~

Spring Vegetable Fritters
asparagus, butterbur Fuki, radish, turnip
served with soy-sauce flavored bread crumbs and potato puree sauce


Zen-Sai (appetizer)
~ Rumbling Flower Petals in the Warm Spring Breeze ~

Confit Chicken Gizzard
Field Mustard Fresh Salmon Roll
Scallop and Green-Pea *Ohitashi Salad
Shrimp and Red Cabbage Summer Roll with Shrimp Aurora Sauce
Cold Snow-Crab Butter *Chawan-Mushi
Grated Carrot Salad with Ikura Salmon Roe
Pork Loin with *Plum Sauce

*Ohitashi = vegetable marinade with fish or kelp broth
*Chawan-Mushi = steamed savory egg custard
*Plum Sauce = sour sauce made from Japanese pickled plum "Umeboshi"


O-wan (bowl dish)
Dobin-Mushi (Steamed Earthware-Pot Soup)
chicken ball, Maitake(Hen-of-the-Woods) mushroom, Kogomi fiddleheads, Sudachi citrus



Otsukuri (Sashimi=thinly sliaced raw fish)
Otsukuri comes with three different kinds of sauce, the chef's selections.

Tuna (chef's selection: *Tosa Soy Sauce)
Botan Shrimp (chef's selection: Tosa Soy Sauce)
Nishin Pacific Herring (chef's selection: *Sesame Soy Sauce)
Japanese Scallop (chef's selection: *Shio-Ponzu)
Barfin Flounder with Shredded Dried Kelp (chef's selection: Tosa Soy Sauce)

*Tosa Soy Sauce: soy sauce flavored with bonito broth
*Sesame Soy Sauce: soy sauce flavored with sesame
*Shio-Ponzu: light and sour citrus-based dressing


Nakazara (light dish, hot pot)
Cherry-Petal Shaped Braised Skate with Sakura-Pink Starchy Broth Sauce
Japanese white radish, *Shiso buds, herbs

*Shiso: Japanese herbal plant with minty flavor, integral in Japanese cuisine.


Shii-Zakana (main dish)
Two Local Brands(Shiraoi, Ohnuma) of Beef Steaks with Vegetables
Broil the beef on a lava rock in the center of the plate to enjoy.



Sunomono (Vinegared Dish)
Kelp-Pickled Pufferfish with Citrus Vinegar Sauce
American Silvertop, cherry tomato, sword-bean flowers

Shokuji (rice dish)
*Yumepirika Rice
Chef's Original Pickles: Mizuna Leaf with *Yukari/Radish *Country Pickles/ *Senmai Kabu Turnip
*Wasabi Kombu from *Fujisaki Wasabi En
Beef *Shigure-Ni

*Yumepirika Rice: Hokkaido-brand rice No.1-ranked in Japan for seven consecutive years.
*Yukari: refreshing savory sprinkles made from red Shiso leaves
*Country Pickles: Japanese radish dressed with Yukari and green Shiso leaf
*Senmai Kabu Turnip: traditional and seasonal pickled turnip of Kyoto
*Wasabi Kombu: specialty of Noboribetsu, green horseradish and kelp boiled down in sweetened soy sauce.
Best friend of rice and Japanese sake.
*Fujisaki Wasabi En: traditional shop of wasabi products established in 1915 here in Noboribetsu.
*Shigure-Ni: simmered beef with sweetened Soy Sauce

Tome-Wan (soup)
*Red Miso Soup
Japanese field horsetail, Aralia tree buds, Japanese scallions

*Red Miso: full-bodied bean or rice paste


Dessert
Fresh Cheesecake with Sakura-Pink Jelly and Salt-Pickled Cherry Blossom Topping
Dried Fruit and Nut Nougat Glacé Ice Cream Cake
Chocolate Soufflé
Salt Ice Cream


BOUROU NOGUCHI Original Blend Coffee
Tea – Darjeeling, Earl Grey, Peach


BOUROU NOGUCHI NOBORIBETSU
※Please note that the menu items of dinner course are subject to change according to the availability.

BREAKFAST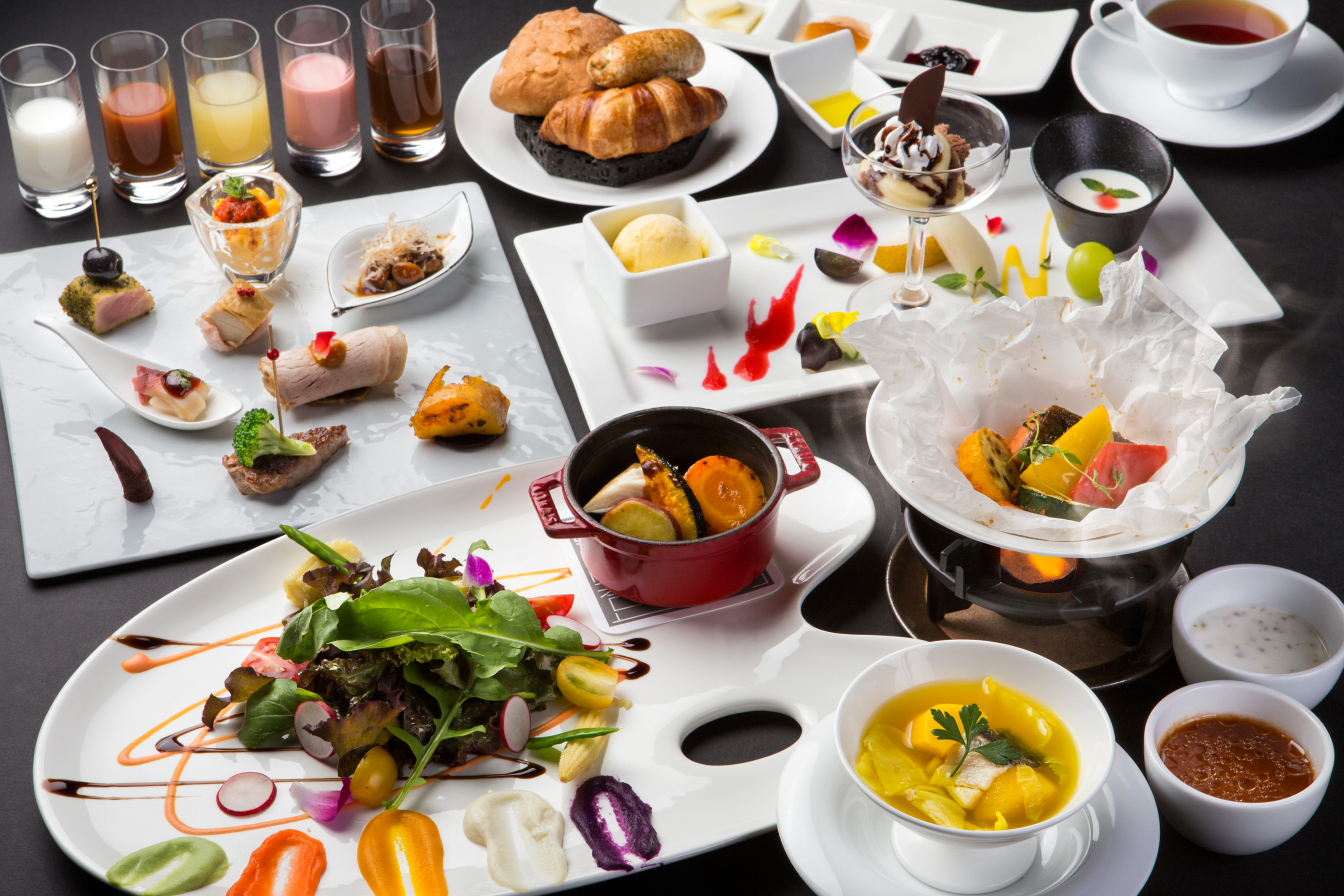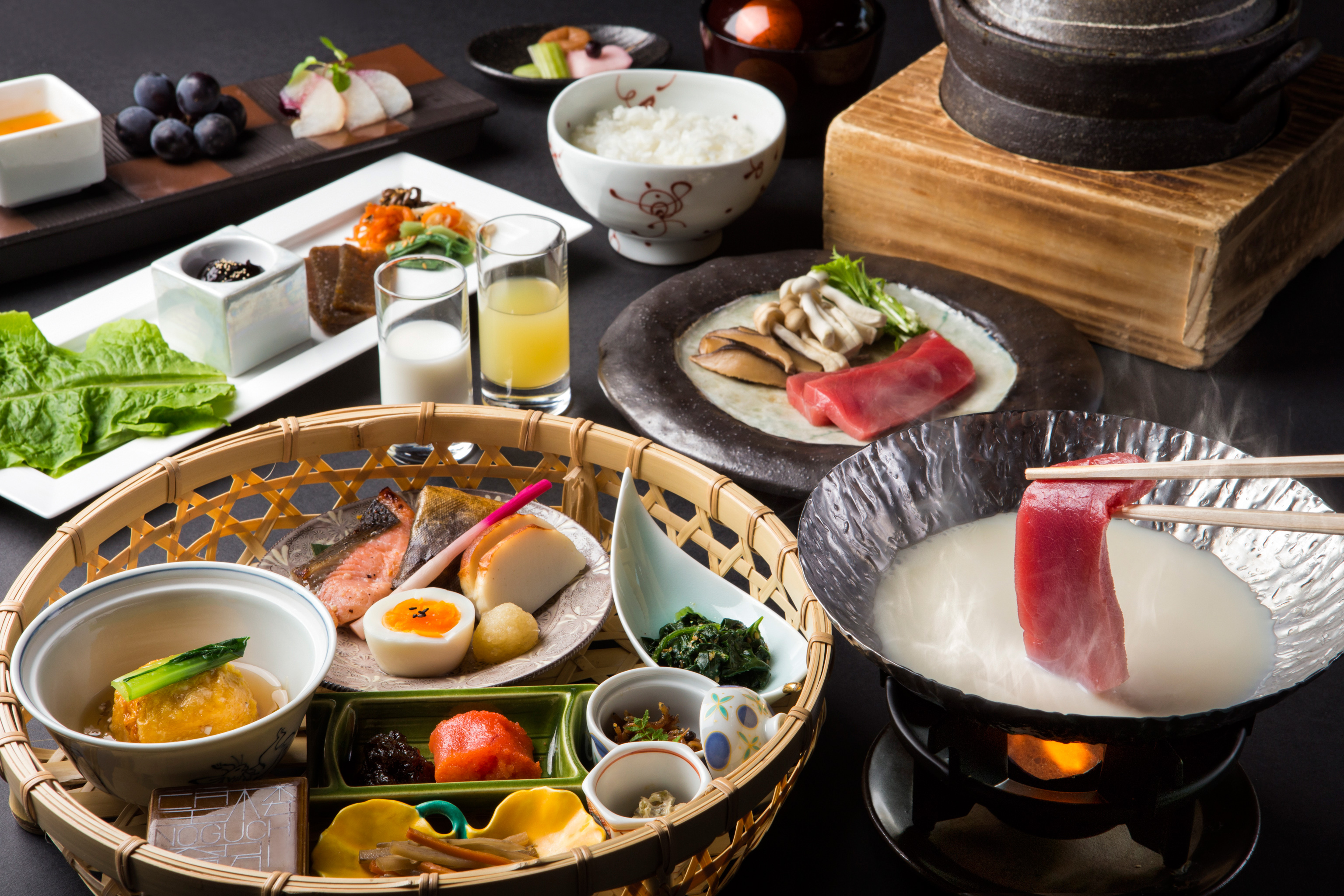 Breakfast prepared with careful attention to the ingredients and cooking methods makes a fitting end to your stay
Choose from Japanese cuisine with kettle-cooked rice and a range of complementary side dishes, or western cuisine with fresh-baked bread and meat dishes made from brand name Hokkaido beef.